Bengaluru, September 17:
The annual business conclave 'Sammantran 2017', organized by the students of the one year Executive Post Graduate Programme in Management (EPGP) at IIMB, proved to be the perfect forum for discussions on trends and opportunities in India's fast-evolving business environment here today.
All the speakers, from industry, government and academia, were of the opinion that the keys to the country getting ahead, included the success of the 'Make in India' initiative, collaboration between all stakeholders, financial and social inclusion, and better ease of doing business with a focus on developing the country as a manufacturing hub.
"India is an evolving economy and the contribution of the automotive industry in the country's economy is immense. India is now the world's largest two-wheeler market and world's fifth largest automotive market," said Malo Le Masson, Head - Global Product & Planning, Hero MotoCorp Ltd., in his keynote address at the conclave.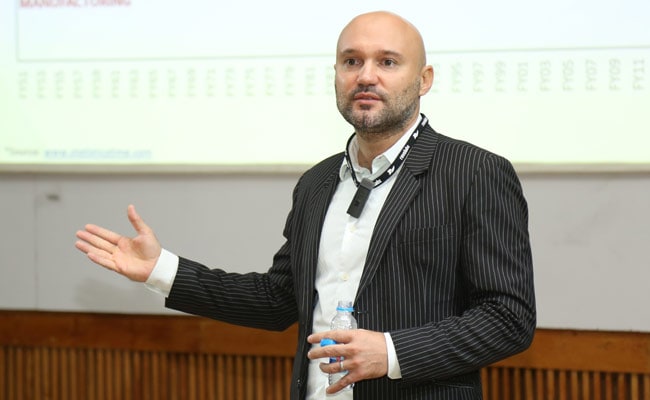 Themed around 'India Inc. Shifting Gears', the conclave had keynote speaker sessions, panel discussions, industry talks and quizzes.
Earlier in the day, IIM Bangalore Director Prof. G. Raghuram inaugurated the event and addressed the gathering.
The conclave featured a panel discussion on 'India & Tax Reforms', featuring N P Singh, Former Chief Commissioner of Income Tax, Mumbai; Madhukar Dhakappa, Partner - Corporate & International Tax, PwC India, and Praveen William, Partner - Indirect Taxes, KPMG. The discussion was moderated by Professor Charan Singh, Visiting Faculty from the Economics & Social Sciences area of IIM Bangalore.
The Industry Talk was delivered by Kamal Bali, Managing Director & President, Volvo India. Describing India as "a land of severe contrasts", he said one had to combat several legacy challenges like poverty, infrastructure, inequity, inefficient and high logistics cost, inadequate educational and vocational skills, need for new jobs, maternal and child mortality, etc.
The afternoon session had a panel discussion on Digitalization in Supply Chain Systems. The panelists were Subrahmanya Sastry, Partner, PwC; Vamsi Ayyagaria, India Regional CIO & Director - IT Engineering, Dell; and Hemanth Sheelvant, Founder, Business Head & Strategist, Bezirk. This discussion was moderated by Prof. D Krishna Sundar, from the Production & Operations Management area at IIMB.
The afternoon's industry talk was by Akilur Rahman, Chief Technology Officer, ABB India, on how 'IoT, Services and People will help impact India Inc.'.
The third panel featured Manoviram Rath, Head, Instrumentation & Control, L&T Technology Services; Veerendra Vasamsetty, Innovation Manager & Group Sr. Edison Expert Level - 2, Schneider Electric; and Dattartreya Gaur, Vice President, BU Head, Product Development, Engineering & Smart Manufacturing Solutions-Robert Bosch Engineering & Business Solution Pvt. Ltd. The discussion was themed on Industrial Internet of Things (IIoT) & Automation. This discussion was moderated by Nikhil Dhar, from the EPGP programme at IIMB.
'Sammantran 2017' concluded on the thought that India was on the right path towards implementation of IIoT and Automation across segments to increase integration, reduce wastage and enhance brand name.
Read also:
ISB, IIM Bangalore Join Hands To Train The Next Generation B-School Faculty
IIM Bangalore Launches Entrepreneurs And Family Businesses Programme In A Unqiue Blended Format
IIM Bangalore's NSRCEL Social: Non-Profit Incubation In India Gets A Shot In The Arm
IIM Bangalore Sets Up Case Recording Lab To Advance Digital Delivery Of Management Education
IIM Bangalore Welcomes 405 PGP, 23 FPM Students
Click here for more
Education News