No 'Ghoomar' Song For School Functions, Ordered Officer; Circular Withdrawn Now
'It was requested that Hindu sentiments should not be offended by playing 'Ghoomar' song in the cultural programmes being organised in schools. So, do not use 'Ghoomar' song in the cultural programmes in schools.'
Education
| Edited by
Maitree Baral
| Updated: Nov 23, 2017 3:50 pm IST | Source: NDTV
New Delhi:
The never ending controversies over Sanjay Leela Bhansali's 'Padmavati' seems to have escalated, this time. An education officer in Dewas district, Madhya Pradesh had issued a circular banning a song from the period drama from being played at cultural programmes in schools. The circular directed the principals and head masters of all government and private schools to stop using the film's song, titled 'Ghoomar', during cultural programmes in their respective institutions. However, later, the circular was withdrawn and Education Officer Rajiv Suryavanshi has been served a show cause notice to explain his action within three days. The circular, which was released yesterday, has been withdrawn with immediate effects.
"Shri Rashtriya Rajput Karni Sena has submitted a request letter in the honour of Maa Padmavati. It was requested that Hindu sentiments should not be offended by playing 'Ghoomar' song in the cultural programmes being organised in schools. So, do not use 'Ghoomar' song in the cultural programmes in schools," reads the circular.
"I came to know about the circular this morning. Only the state government can issue such circulars. The DEO is not entitled to pass such an order. I have directed the DEO to immediately withdraw this order," Dewas Collector Asheesh Singh told news agency PTI.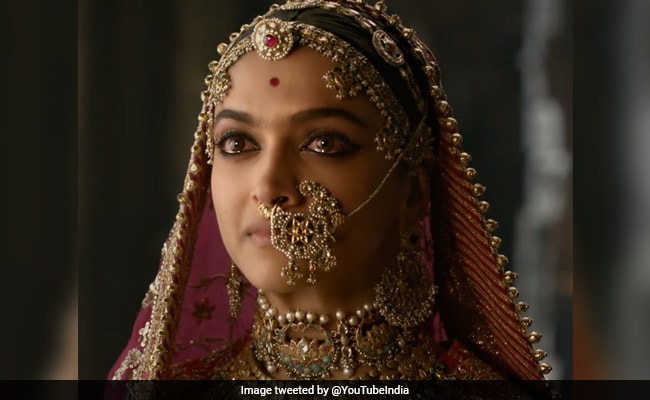 Madhya Pradesh Chief Minister Shivraj Singh Chouhan, who opposed the screening of Padmavati in the state, said the story of the 13th Century Rajput Queen should be part of school curriculum from next year so that students learn "correct history". "The life saga of Rajmata Padmavati would be included in the school curriculum from the next (academic) session so that the coming generations could know her sacrifice and bravery. (This way) the coming generation could know the correct history," Mr Chouhan was quoted as saying by news agency Press Trust of India at a programme organised by a Rajput group in Ujjain. 
Students Will Learn "Correct History" Of Padmini: Shivraj Chouhan
With accusations of distorting the history and facts about Rajput Queen, the movie "Padmavati", featuring Deepika Padukone, Shahid Kapoor and Ranveer Singh in the lead roles, has been facing the wrath of various Rajput groups and political leaders. 
Amidst controversy, the British Board of Film Classification has cleared Padmavati for release in the UK , but the producers of the film have said they will wait for Central Board of Film Certification's nod before screening the film in British theatres. 
Padmavati Controversy Live: UK Censor Board Clears Release of "Padmavati", Producers To Wait For CBFC
(With Inputs From PTI)
Click here for more Education News