New Delhi:
Kerala Chief Minister Pinarayi Vijayan inaugurated the State-level measles-rubella vaccination mission programme at the Government Girls' Higher Secondary School, Ernakulam on Tuesday. The Chief Minister said the effectiveness and safety of Measles-Rubella Vaccination have been scientifically proven time and again, through rigorous tests and experiments. The health department has set up vaccination camps in government and private schools, public health centres, CHCs, Anganwadis, and also in selected private hospitals.
"Rubella if infected during pregnancy, causes irreversible neural, auditory or visual harm, even death to the growing foetus," Mr Vijayan tweeted.
Effectiveness & safety of Measles-Rubella Vaccination have been scientifically proven time & again, through rigorous tests and experiments.

- Pinarayi Vijayan (@vijayanpinarayi) October 3, 2017
"Measles could develop as a fatal disease, but it can be prevented with vaccination," he said in another tweet.
According to Union Health Ministry, Measles immunisation directly contributes to the reduction of under-five child mortality and in combination with the rubella vaccine, it will control rubella and prevent CRS.
Measles-Rubella vaccination has witnessed opposition from several quarters. According to WHO, 'Measles-Rubella vaccine is safe. Around 150 countries are currently using measles and rubella containing vaccines and they have proven to be highly safe and effective'.
Kerala Chief Minister also tweed that, if you have any doubts about MR Vaccine Campaign, the general public may contact the toll free number 1056 and experts will answer your queries.
Measles-Rubella Vaccination Programme Begins In Kerala; 10 Points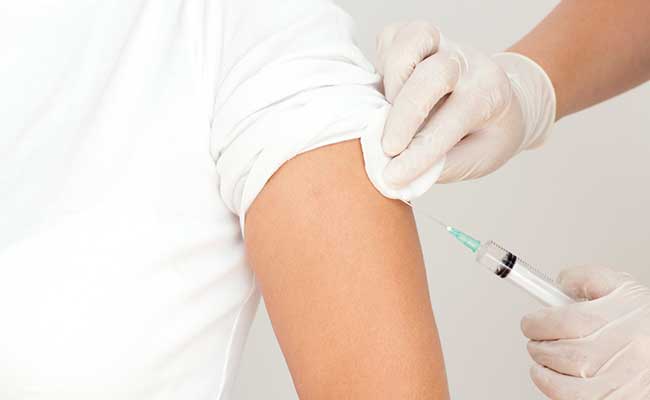 1
. Measles-Rubella (MR) Vaccine introduced in Universal Immunization Programme as Measles-Rubella combination vaccine to provide protection against congenital birth defects caused by Rubella infection.
2
. The vaccine was introduced on 5th February 2017, initially
in five states
namely Tamil Nadu, Karnataka, Goa, Puducherry & Lakshadweep though MR vaccination campaign for children aged between 9 months and 15 year.
3
. Till 31st March 2017, 3.32 crore children were vaccinated in MR vaccination campaign in these States.
4
. While measles is a viral infection that can be fatal, congenital rubella syndrome is responsible for irreversible birth defects.
5
. The Union health ministry's campaign against the two diseases intends to cover approximately 41 crore children in a phased manner, making it the largest-ever worldwide.
6
. The drive was carried out at schools, community centres and medical institutes, covering children between the ages of nine months and 15 years.
7
. In the second phase which started early this month nearly 3.4 crore children across eight states and union territories Andhra Pradesh, Chandigarh, Himachal Pradesh, Kerala, Telangana, Uttarakhand, Dadra and Nagar Haveli and Daman and Diu will be covered.
8
. All children from nine months to less than 15 years of age will be given a single shot of MR vaccination during the campaign.
9
. Following the campaign, MR vaccine will become a part of routine immunisation and will replace the measles vaccine, currently given to 9-12 months and 16-24 months children.
10
. It is a part of global efforts to reduce illness and deaths due to measles and rubella/ Congenital Rubella Syndrome (CRS) in the country.
Read also:
CBSE Asks Schools To Participate In Measles Rubella Campaign
(With Inputs from IANS and PIB)
Click here for more
Education News
Get Breaking news, live coverage, and Latest News from India and around the world on NDTV.com. Catch all the Live TV action on NDTV 24x7 and NDTV India. Like us on Facebook or follow us on Twitter and Instagram for latest news and live news updates.