Google today paid tribute to
social activist and Bengali author Mahasweta Devi
on the occasion of her 92nd birth anniversary with a Google Doodle. Recipient of the Sahitya Akademi Award, the Bharatiya Jananpith Award, the Ramon Magsaysay Award and the Padma Vibhushan, "Mahasweta Devi is credited with initiating a new move in Bengali literature that blends history, fiction and myth with a touch of
documentary reality
". Counted among South Asia's most decorated authors, Mahasweta Devi passed away in July 2016 following age-related illness.
Mahasweta Devi Features In Google Doodle: Important Things To Know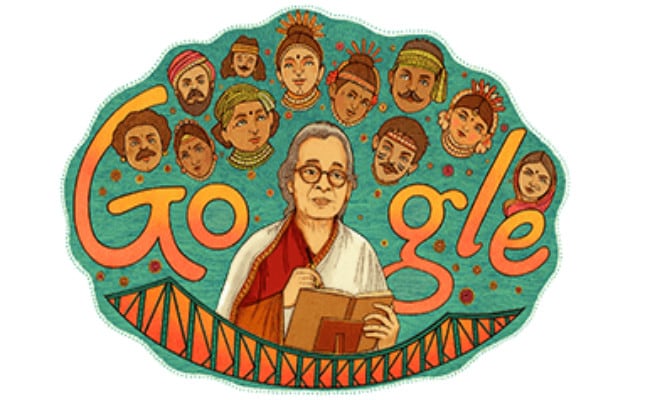 Mahasweta Devi Features In Google Doodle; Important Things Students Should Know About The Writer-Activist​1
. Mahasweta's lifestyle has been unconventional. "Although she has dabbled in many professions, writing has been her living since the early 1980s. Her early proximity to the People's Theatre Movement and the Communist Party confirmed her in her unconventional lifestyle and when in the 1950s she travelled widely in Madhya Pradesh by herself, trying to retrace historical memories in order to write- a biography of the Rani of Jhansi, her training as an activist journalist had begun,"
wrote Malini Bhattacharya
.
To one of the leading feminists of the country, the one who saw humanity and its lack for what it was, who raised her voice and wrote her books so the word of revolution could be spread, so the oppressed were no longer oppressed; here's to you: Happy Birthday Mahasweta Devi.

— Vivek Tejuja (@vivekisms) January 14, 2018
2
. "Later", Malini added, "when she became involved with tribal and other oppressed communities and their struggles to establish their own rights, this training would stand her in good stead. In her own words, while working among the tribals in Palamau, "I have covered all of the district on foot. I walked miles, stayed somewhere overnight, went from place to place"."
3
. Her famous works like 'Hajar Churashir Ma' (Mother of 1084), 'Aranyer Adhikar' (Right to the Forest, 'Jhansir Rani' (The Queen of Jhansi), 'Agnigarbha' (The Fire Within), 'Rudali', 'Sidhu Kanhur Daakey', gave an insight into the oppressed lives.
4
. According to Malini Bhattacharya, Mahasweta Devi has never described herself as a feminist. "This is because in her perception sexual exploitation always forms part of a much larger pattern of exploitation," she wrote. Though, she also focused on women's rights in her works. Her short story 'Choli Ke Peeche' inspired Italian director Italo Spinelli to make the multilingual 'Gangor'.
5
. "In Mahasweta Devi's view, the tribal life in India is an 'undiscovered continent' ignored by the mainstream centres of power and existing on the verge of extinction," MN Chatterjee wrote.
6
. Many of her novels inspired filmmakers and were turned into movies. Award winning films like Govind Nihalani's 1998 movie Hazar Chaurasi ki Ma and Kalpana Lajmi Rudali were based on books authored by Mahasweta Devi. While Rudali was based on the lives of professional mourners upon the death of upper-caste males in Rajasthan, 'Hazaar Chaurasi ki Ma' (The Mother of 1084) is based on her Bengali novel on the emotional struggles of a mother who tries to understand the reasons behind her son's involvement in the Naxalite movement.
Click here for more
Education News
Get Breaking news, live coverage, and Latest News from India and around the world on NDTV.com. Catch all the Live TV action on NDTV 24x7 and NDTV India. Like us on Facebook or follow us on Twitter and Instagram for latest news and live news updates.