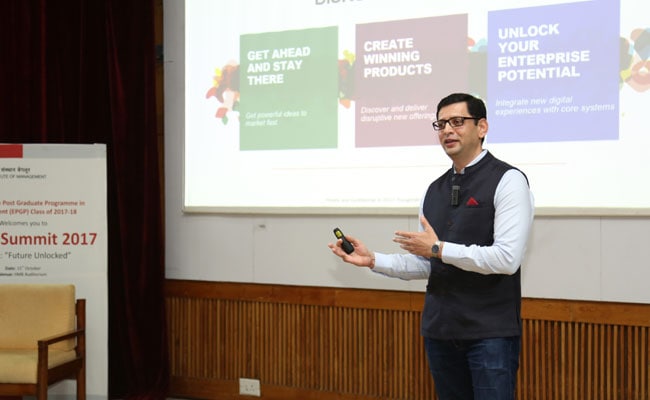 Bengaluru:
Digital Summit 2017, organized by the students of the one-year full-time Executive Post Graduate Programme in Management (EPGP) at IIM Bangalore, set the stage for discussions around present technologies that have the potential to make the biggest impacts on people and businesses in the future.
"Copy paste is not the name of the game anymore; it is get disrupted or go out there and disrupt," said Jayesh Ghatge - Market Partner-India, Thoughtworks, while delivering the keynote address at the Digital Summit.
"The key is in experimentation, increasing the speed and reducing the overall cost of experimentation. People who are mission driven and people who take bold bets will not have a job description, they will not be project managers, they will not be program managers, we call them choreographers, they are people who have the breadth of experience across various business types and have good understanding of humanities, technologies, sociology. The reason for this is because they can work across various silos of the organization and bring out the potential that technology holds," Mr. Ghatge said.
Highlighting the fact that in the new world driven by technology there are no solutions readily available, Ghatge said, "In addition to choreographers, we need great storytellers as well, the reason for this is that you cannot present a business case anymore that is only backed by data, you can only sell a dream and for this you need to have great storytelling skills."
The summit brought together professionals, practitioners, academicians, technology evangelists, young managers and students, who had the opportunity to network, and deliberate on multiple aspects of digitization and the promise of technology in delivering value to the customers.
Themed 'Future Unlocked', this edition of the Digital Summit was inaugurated earlier in the day by Prof. Gopal Naik, Dean, Faculty, IIMB.
The keynote address was followed by a panel discussion on 'Nonintrusive Marketing'. The panelists were Anil V Pillai, Director, Terragni Consulting (P) Ltd; Sreekant Lanka, Head of Programmatic Account Strategy, Google India, and Suraj Nambiar, General Manager - Digital, Maxus. The discussion was moderated by Shagun Anand, EPGP 2017-18, IIMB.
The panel discussion was followed by a talk on Digital Ethnography by Dr. Vishal Shah, VP - Leadership Development, Wipro. He explained the need for marketers to study social behavior and culture of people and communities.
The afternoon session opened with a talk by Avnish Sabharwal, Managing Director at Accenture Ventures, on 'Digital Inclusion - An Indian Perspective'.
The second panel discussion on 'Platform Organizations Solving Market Inefficiencies' featured Priya Karnik, Vice President - Business, Paytm; Harshit Kumar, Senior Product Manager, Microsoft; Prashant Kondle, VP - Technology and Operations, GoCoop; Piyush Chowhan, VP and CIO, Arvind Brands.
Click here for more
Education News