New Delhi:
Indian Institute of Technology (IIT) Roorkee has released the results of Graduate Aptitude Test in Engineering (GATE) 2017 today. The GATE 2017 results are available at http://appsgate.iitr.ac.in/ and the candidates who have appeared from the Graduate Aptitude Test in Engineering 2017 (GATE 2017) can check the results in the official website. Earlier, IIT Roorkee has in its GATE 2017 calendar had said that the results would be declared on March 27, but it has released the results one day earlier. GATE results have also been used to choose candidates for various job opportunities in India by various PSUs and other organisations.
GATE 2017 score card has been released
GATE 2017 examinations
have been conducted from February 4 to February 12 and final answer keys of the test were uploaded on March 16, 2017
The GATE, which is organised on behalf of Indian Institute of Science (IISc) and Indian Institutes of Technology (IIT) has emerged as one of the major tests for engineering and science aptitude in facilitating admissions for higher education (MTech and PhD) in IITs, IISc and various other Institutes including universities and laboratories across the country.
The results are available on the official website of GATE 2017. The candidates who have appeared for the test may able to retrieve the results using their registration details.
Gate 2017 Results: How To Check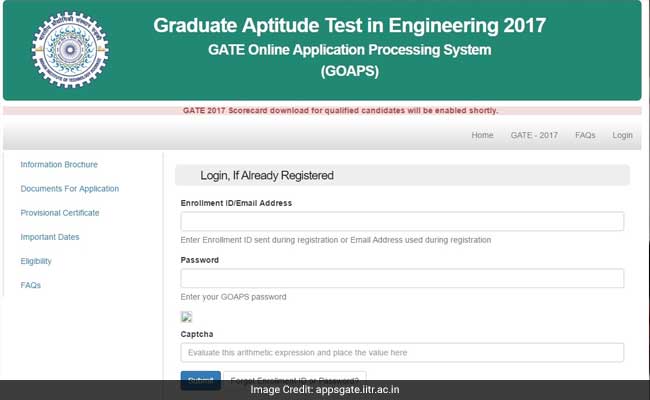 The candidates can follow these steps to check their GATE 2017 results:
Step One:
Go to GATE 2017 results website; http://appsgate.iitr.ac.in/
Step Two:
Enter your registration details of GATE 2017- Enrollment ID/Email Address (Enrollment ID sent during registration or Email Address used during registration), Password (GOAPS password) and the capta.
Step Three:
See your results.
GATE 2017 Scorecard download for qualified candidates has not been activated till the time of this updation. A notification from the results website has said that facility will be enabled shortly.
IIT Roorkee has also said that Scorecard of the GATE 2017 will be available to download by successful candidates till MAY 5, 2017 only.
To know more about the GATE 2017
click here
(Candidates are advised to have patience since the early hour rush may cause server problems in retrieving the results)
Click here for more
Education News