New Delhi:
The Central Board of Secondary Education (CBSE) will declare CBSE class 12 results 2017 any time soon. Ending the uncertainty on the Class 12 results declaration, the board has notified that the results will be declared today. The CBSE board will
declare the results
of the students which include their grades, information about whether they have passed the senior secondary exam or not and their merit details. Here in this article about CBSE class 12 results 2017, we are trying to simplify the rules on the grading, pass critieria and merit lists of class 12 examination.
CBSE Class 12 Results: Pass criteria
According to CBSE rules, a student will be eligible to get the Pass Certificate of the Board, if he/she gets a grade higher than E in all subjects of internal assessment unless he/she is exempted.
In order to be declared as having passed the class 12 examination, a candidate should obtain a grade higher than E (i.e. atleast 33% marks) in all the five subjects of external examination in the main or at the compartmental examinations.
The pass marks in each subject of external examination shall be 33%.
In case of a subject involving practical work a candidate must obtain 33% marks in theory and 33% marks in practical separately in addition to 33% marks in aggregate in order to qualify in that subject.
CBSE Class 12 Results: Grading
In addition to numerical scores, the Board shall indicate grades in the marks sheets issued to the candidates in case of subjects of external examinations. In case of internal assessment subjects, only grades shall be shown.
Letter grades on a nine-point scale shall be used for subjects of external examinations.
The grades shall be derived from scores in case of subjects of external examination. In case of subjects of internal assessment, they shall be awarded by the schools.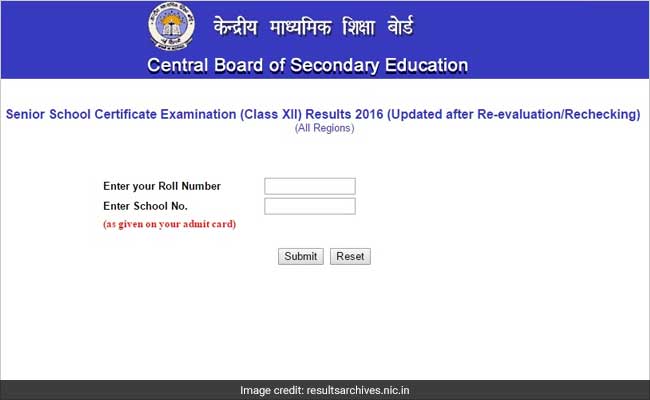 CBSE 12th Result 2017 On Sunday, Know How To Check
CBSE Class 12 Results: Merit Certificates
The Board will award Merit Certificates in each subject to the top 0.1 % of candidates passing that subject, provided that they have passed the examination as per the pass criteria of the Board.
The number of Merit Certificates in a subject, will be determined by rounding of the number of candidates passing the subject to the nearest multiple of thousand. If the number of candidates passing a subject is less than 500, no merit certificate will be issued.
In the matter of a tie, if one student gets a Merit Certificate, all candidates getting that score will get the Merit Certificate.
All the best from
NDTV Education Team
Get the latest election news, live updates and election schedule for Lok Sabha Elections 2019 on ndtv.com/elections. Like us on Facebook or follow us on Twitter and Instagram for updates from each of the 543 parliamentary seats for the 2019 Indian general elections.