New Delhi:
Indian Institute of Management (IIM) Lucknow conducted the Common Admission Test 2017 or
CAT 2017 online exam
today in various centres across the country. The CAT 2017 slot 1 was held till 12 pm while the slot 2 of the exam was held till 5.30 pm. CAT is a digital or Computer Based Test (CBT) which is being held for the admission to various masters programmes in Business schools across India including the prestigious IIMs. Overall, according to Career Launcher, CAT 2017 exam was slightly easier than its 2016 edition.
DI&LR Was The Toughest Section, Say MBA Aspirants
It also said the level of difficulty is also same as last year. In various sections, candidates who appeared for the exam talked about a 'tough' Data Interpretation and Logical Reasoning (DI LR).
CAT 2017 exam had three sections:
Section I: Verbal Ability and Reading Comprehension
Section II: Data Interpretation and Logical Reasoning
Section III: Quantitative Ability
According to the test takers and experts, careers360.com reported that the CAT Slot 1 was of moderate level of difficulty.
"Data Interpretation & Logical Reasoning was the toughest section followed by Verbal Ability and Reading Comprehension. Quantitative Ability was the easiest among all," said an analysis by the website.
"As per reports by students who took the exam for the second time, the CAT exam went off smoothly this year. There was no shift in the pattern except Logical reasoning and Quantitative section being slightly difficult. The written and verbal ability in language section was slightly easier than last year," said Dr D K Batra of IMI-New Delhi.
"So, no big surprises this year," he added.
And it seems like, according to the feedback we see, DI LR was the most difficult one in the first slot of CAT 2017.
"LR DI section be like "Bolo beta, kaunse IIM jaoge?," said a Twitter user Rishabh Bhatti.
#CAT2017 DILR slot 1 tough. Otherwise easier!

- Aditya Karandikar (@aditya_k5) November 26, 2017
According to Career Launcher, this year, data interpretation and logical reasoning section was more difficult. It also said the total difficulty level of quantitative ability this year is similar to CAT 2015.
A quick recap- Overall #CAT2017 was slightly easier than #CAT2016. Level of difficulty same as last year. DI-LR: more difficult. 99%ile at 36-37 marks. Quant is similar to #CAT2015. 99%ile at 62-65 Marks. Verbal 99% at score of 65+. Over all 99%ile at 153-155 marks. pic.twitter.com/Pin3pZuZu7

- Career Launcher (@careerlauncher) November 26, 2017
In a tweet Career Launcher said the overall paper pattern of CAT 2017 is similar to CAT 2016.
Overall paper pattern similar to #CAT2016. Verbal similar to last year with 28 - 30+ a good attempt. Quant similar-to last year, marginally easier with 27 as good attempt. DI-LR more difficult in comparison to last year with 12+ good attempt. https://t.co/fQJxFzQvPU#CAT2017pic.twitter.com/JB5mx2xo2N

— Career Launcher (@careerlauncher) November 26, 2017
According to an expert from IMS India, there were easy questions and there were difficult questions in slot 1 and slot 2.
"It means the the CAT 2017 was a mixed question paper," said the expert.
The scoring scheme for Multiple-Choice Questions (MCQs) is as follows:
Each correct answer is awarded 3 marks.
An incorrect answer fetches -1.
No marks are given or deducted for unattempted questions.
"This year it was quite tough. In DI- LR part, there was only one LR question, rest was DI and it was hard," a candidate who attended the CAT 2017 from Thane told InsideIIM.com.
"CAT 2017 DILR slot 1 tough. Otherwise easier! (sic)," said Aditya Karandikar, a twitter user.
According to the official CAT 2017 notification, the results of this exam is expected to be released by January second week next year.
CAT 2017: Technical glitches and complaints
Several candidates complained about glitches across India.
#CAT2017#PMOIndia
Today, in CAT exam, one of the examination centre servers didn't work. Now they are asking aspirants to go to other examination centre for today's next shift exam. That's ridiculous.
Heavy examination fees and they can't provide good examination centres.

- Mohit singhal (@mohitkrsinghal) November 26, 2017
According to a candidate who went a test centre in Kalkaji, New Delhi:
"Students were waiting from morning 9 am but there was no server till 12pm and the students could not give exam in Slot 1. Now parents and students are protesting outside the test center. If they are not able to attend exam today, many students will have to take 1 year gap and coaching for this day. The organisors are playing with their future".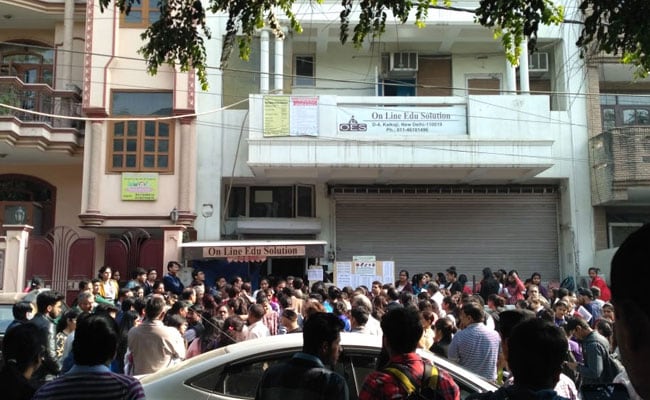 CAT 2017: Candidates parents protesting outside a test centre in New Delhi
And someone took a different take on the exam:
CAT exam dene ke baad toh aisi feeling aa rhi hai, jaise , neend puri kr hi leni chahiye thi. #CAT2017

- Aneesh Kumar (@ApnaAneeshkr) November 26, 2017
CAT 2017 is conducted in test centres spread across approximately 140 test cities.
CAT 2017 Cut-off Marks
IMS Learning Resources Chief Mentor Tony Xavier told Pagalguy.com that "the cut-off marks would remain low this year too, as it was the case last year. Aspirants might have to score up to around 80 percentile for a successful convert".
CAT 2017 Score
Candidates' CAT 2017 score card will be made accessible at the CAT website. Candidates may also be intimated individually by SMS. The CAT results are likely be declared by second week of January, 2018. CAT 2017 score is valid only till December 31, 2018 and will accordingly be accessible on the website. Thereafter, no queries related to issuance of CAT 2017 score cards will be entertained.
Click here for more
Education News