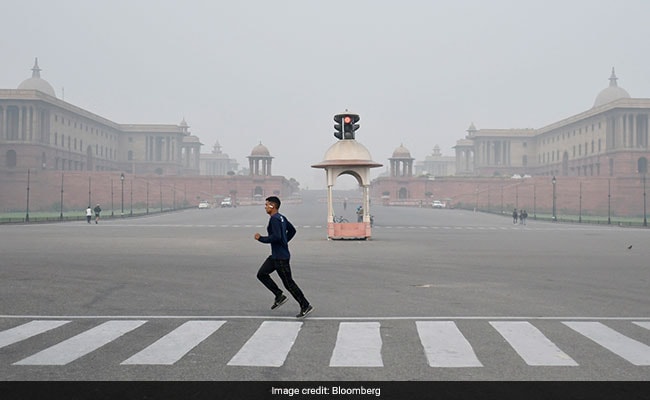 New Delhi:
The government today said a Comprehensive Action Plan (CAP) for management of air pollution "specifically" for Delhi-NCR has been finalised by the Environment Ministry.
The plan has a number of measures including actions to reduce vehicular emissions and control dust from constructions.
Environment Minister Harsh Vardhan in a written reply in the Rajya Sabha said the finalised action points to mitigate air pollution have been notified by the Central Pollution Control Board (CPCB) for strict implementation by agencies concerned.
"A CAP for management of air pollution in Delhi and NCR has been finalised by the Environment Ministry in consultation with various stakeholders.
"The finalised action points have been notified by the CPCB vide directions dated January 25, 2018, and March 6, 2018, under sections 3 and 5 of the Environmental (Protection) Act, 1986 for strict implementation by concerned agencies" he said.
The plan has identified time lines for agencies to take action under various categories like air quality monitoring, action to reduce vehicular emissions, strategies to reduce number of vehicles on road and non-motorised transport (NMT) network among others.
For authorities, it has time lines for them to take action in the parking policy to reduce congestion and pollution; and on traffic management, power plants and industries, generator sets, open and domestic 'chulha' burning and open eateries.
It also looks at implementing control measures for road and construction dust.
The CAP is "specific" for Delhi and NCR, and there is no plan for its implementation across the country, the minister said.
He said the CPCB is regularly undertaking various studies for source apportionment, health impact, air pollution inventory and monitoring among others.
There is no specific study with three months reporting time-line being undertaken by the CPCB, he said.
The government has formulated a separate National Clean Air Programme (NCAP) as a long-term and time-bound national level strategy to tackle increasing air pollution in the country in a comprehensive manner, he said.
"The overall objective of the NCAP is comprehensive management plan for prevention, control and abatement of air pollution besides augmenting and evolving effective ambient air quality monitoring network across the country," the minister said.
The NCAP has a specific component on formulation of action plans for 100 non-attainment cities that have air-quality worse than the National Ambient Air Quality Standards.
To meet air quality standards, the CAP includes measures such as setting up of 20 more realtime monitoring stations, NCR-wide air quality monitoring expansion, undertake satellite-based monitoring and enforcing agriculture waste burning.
Under it, the government has also planned research studies on issues such as air pollution inventory, source apportionment, health impact and enforcing Graded Response Action Plan.
Action related to reduction of vehicular emissions include introduction of battery-operated vehicles in targeted segments of two and three wheelers and inter-state freight transport plan among others.
Similarly, action plan for reduction in vehicular emissions also include ensuring on schedule implementation of BS VI fuel and emssion standards, expansion of CNG programme across NCR, installation of vapour recovery systems in fuel refuelling outlets to reduce benzen emissions in NCR and others.