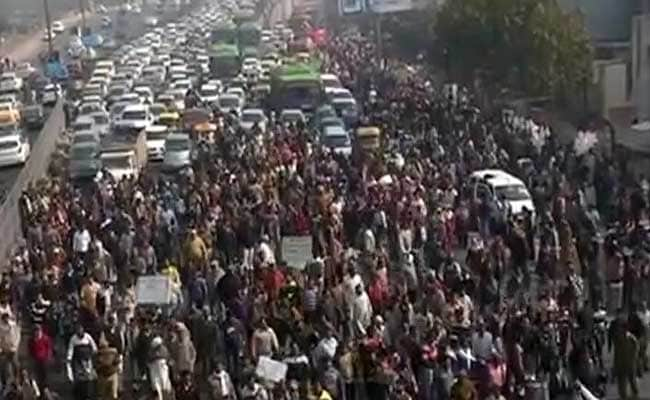 New Delhi:
The striking workers of Municipal Corporation of Delhi today blocked major roads in the capital throwing peak hour traffic out of gear even as the Delhi government suggested that the continuing protests, that have brought the city to its knees, were "political" and
instigated by BJP
.
Commuters had a harrowing time as traffic came to a standstill in various parts of the city as sanitation workers blocked major thoroughfares such as National Highway (NH) 24 and Vikas Marg among others. They dumped garbage and set tyres ablaze on the roads.
Lieutenant Governor Najeeb Jung, who had yesterday recommended to the Aam Aadmi Party (AAP) government to extend "conditional" loans to the civic bodies, is set to meet Home Minister Rajnath Singh today.
Delhi Home Minister Satyender Jain tweeted, "If salaries are paid upto Dec than why strike". The strike entered its eighth day today.
He questioned the role of councillors and mayors of the BJP-ruled corporations in the protests. The three civic bodies told the Delhi High Court yesterday that the employees have been
paid salaries till December 2015.
"It seems like politics now. If they have indeed paid salaries then why stage such protests? BJP is doing politics and misleading people. What explains the presence of mayors and BJP councillors in the protests otherwise?" Mr Jain asked.
He said that "no one" could be sure as to whether the Municipal Corporation of Delhi (MCD) authorities had stated the truth in the court.
The Lt. Governor has expressed fear that further protests may cause law and order problem in the capital.
The strike has crippled functioning of hospitals and schools run by civic bodies, besides garbage disposal even as the Delhi government continues to insist that it has already released the entire fund to the municipal bodies under non-plan head.
The contractors of North Delhi Municipal Corporation and East Delhi Municipal Corporation have also extended their support to the ongoing strike, threatening they will stop all ongoing works of the two municipal corporations from February 10.
Thousands of agitators yesterday
took out a protest march from the Civic Centre to Rajghat carrying begging bowls to draw attention to their demands.