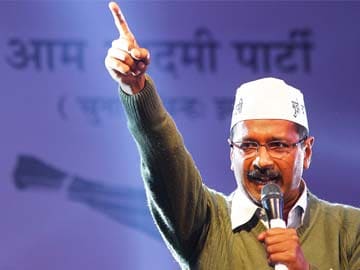 New Delhi:
The Aam Aadmi Party (AAP) on Sunday claimed that Rs.1,400 crore was distributed in some media houses to defame the party.
The allegation comes in the wake of a sting operation by media portal mediasarkar.com, which showed some AAP members allegedly accepting donations without proper verification.
"I am told Rs.1,400 crore have been distributed to a few media houses. Who are these media houses?" tweeted AAP chief Arvind Kejriwal.
The party also held a press conference in Delhi on Sunday in which it gave a clean chit to all its members featured in the video and reiterated that it will sue the media portal's chief executive officer Anuranjan Jha as well as some other media houses.
"We will soon be filing civil and criminal defamation cases against the media portal and some channels," lawyer Prashant Bhushan said.
"Portions have been edited and deleted to show AAP candidates in bad light. There is political motivation behind the operation. All our members are honest and innocent," party leader Yogendra Yadav said.
The sting that came out on Thursday showed AAP leaders, including Shazia Ilmi, candidate from south Delhi's R.K. Puram, accepting donations without proper verification days before the December 4 Delhi assembly polls.
Get Breaking news, live coverage, and Latest News from India and around the world on NDTV.com. Catch all the Live TV action on NDTV 24x7 and NDTV India. Like us on Facebook or follow us on Twitter and Instagram for latest news and live news updates.