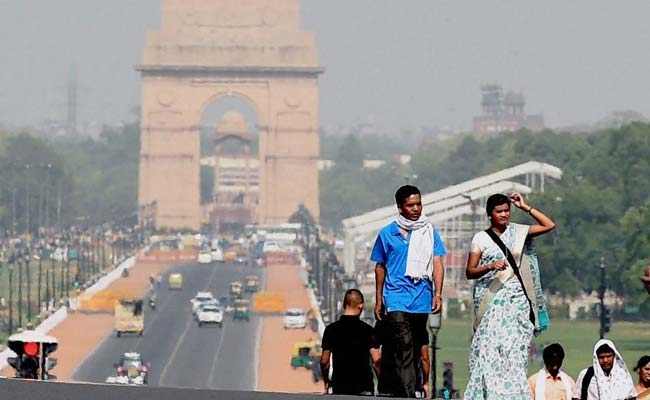 New Delhi:
Delhi on Friday recorded a maximum average temperature of 42.8 degrees Celsius, a rise of nearly five degrees over the previous day's temperature, even as the met predicted rain on Sunday and Monday.
With some areas in Delhi sizzling at over 43 degree Celsius, weather experts said they expected the mercury to increase today as well.
"Saturday may be more warm, with temperatures likely to hover around 43 degrees," said an official at the India Meteorological Department (IMD).
However, rain has been forecast for Sunday and Monday.
According to the IMD, while there are chances of showers towards today evening, Sunday is likely to see rain or thundershowers with strong gusts.
On Friday, Delhi's Ayanagar remained the hottest with the maximum at 43.2 degree Celsius.
Friday's minimum temperature was 24.2 degree Celsius, a notch below the season's average while the humidity oscillated between 21 and 40 per cent.
Thursday's maximum settled at 38 degree Celsius while the minimum was recorded at 21.5 degrees, three notches below the season's average.
Last week, the national capital and neighbouring states saw strong winds.
Under attack for issuing an alert for a thunderstorm that triggered widespread panic among people, especially in Delhi, the met office last week said the wind speed observed was well within the range of what it had forecast.
In a statement, the India Meteorological Department had said thunderstorm was observed at a few places over Himachal Pradesh, at isolated places over Jammu and Kashmir, Punjab, west Uttar Pradesh, Uttarakhand, Haryana, Chandigarh, Delhi and Rajasthan.
Hailstorm was also observed at isolated places over Himachal Pradesh and Uttarakhand, it added.