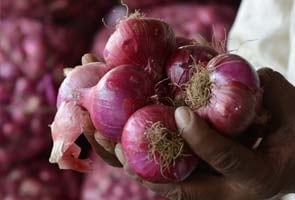 New Delhi:
Concerned about the 57 per cent jump in onion prices in just one month across the country, the government is reportedly considering re-introducing a Minimum Export Price (MEP) to discourage onion exports. In May 2012, the government had abolished the MEP regime to help Indian traders take advantage of rising onion prices in the global markets.
On Friday, the commerce ministry held meetings with senior officials to figure out ways to stabilise prices after seeking inputs from the agriculture and consumer affairs ministries. "The rising domestic price is a concern," a senior Commerce Ministry official said.
The retail price of onions is presently between Rs. 35 to 40 per kilogram, while the wholesale price is Rs. 22 per kilogram. In the week of January 5-10, prices of onions increased by up to 250 per cent as compared with the same period last year.
On Thursday, Delhi Chief Minister Sheila Dikshit had written to agriculture minister Sharad Pawar, asking him to intervene and adopt a "tougher" stand against hoarders. Ms Dikshit requested urgent and appropriate action in curtailing onion exports as well to alleviate the situation.
"Hoarding of this produce cannot be allowed. I have directed all relevant departments to take strict action against any hoarder of onions in the city," Ms Dikshit said
The recent spike in onion prices is being attributed partly to a fall in output in the wake of poor rains in the onion-growing regions of the country. Maharashtra, Gujarat and Madhya Pradesh supply a majority of the country's onion crop.
(
With PTI inputs
)