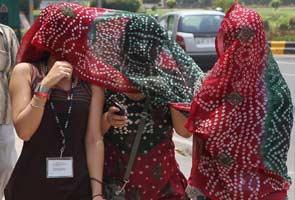 New Delhi:
It was another scorching day in the capital today with the minimum temperature settling at 28 degrees Celsius, a notch above average for the season, and the maximum likely to hover around the 45 degrees Celsius mark.
The Met Office said the heat wave conditions would continue to sweep across the city.
(See pictures)
"Heat wave conditions would continue across the national capital. The maximum temperature on Tuesday is expected to be around 45 degrees Celsius," an India Meteorological Department official said.
On Monday, Delhi sizzled at 44.5 degrees Celsius - five notches above the season's average. The highest temperature was recorded in south Delhi's Palam area at 46.2 degrees Celsius. The minimum temperature too settled three notches above average at 29.3 degrees Celsius.
(Send us your pictures and videos)
Temperatures have been soaring in the capital since Sunday when the city recorded the season's hottest day at 44.6 degrees, five notches above what's average for this time of the year.