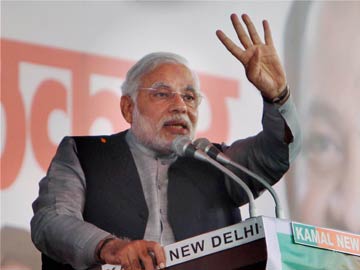 New Delhi:
Launching an attack on Arvind Kejriwal for the first time, Narendra Modi today accused him of back-stabbing Anna Hazare's anti-corruption movement for his personal political ends.
Without naming Mr Kejriwal or his Aam Aadmi Party (AAP), the BJP's prime ministerial candidate cautioned the people against voting for the "newcomers".
"Many years, after the JP movement, Anna Hazare blew the bugle against corruption. We were hopeful that people would get rid of corruption.
"But, some people back-stabbed such a sacred movement of Anna Hazare for their own personal political aspirations and the whole agitation came to an end," Mr Modi said at a well-attended BJP poll rally in Seemapuri in Delhi, a Congress bastion.
The Gujarat Chief Minister said Congress displays one hand (its symbol) but loots with both hands while for the newcomers it seems even two hands are not enough.
"They are all for sweeping everything with the broom (AAP's election symbol)," Mr Modi said.
BJP had been terming AAP and its leaders Kejriwal, Manish Sisodia, Gopal Rai and others as Congress' agents and said they are only a "vote-cutter" party.