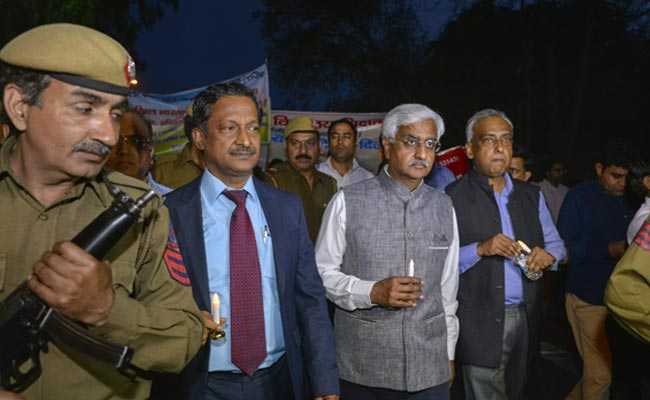 New Delhi:
Amid a simmering row between the Delhi government and its bureaucrats, Deputy Chief Minister Manish Sisodia on Wednesday shot off a terse letter to Lt Governor Anil Baijal, equating the IAS officers' association with a "
khaap panchyat
", and attacked him for "backing" its "
fatwa
" to boycott official meetings with AAP ministers.
But Mr Baijal instead asked Chief Minister Arvind Kejriwal to reach out to the officers and end the row, even as the AAP demanded action against the officers for "violating" service conduct rules.
Amid no signs of a thaw in the bitter tussle, Mr Baijal on Wednesday again asked Mr Kejriwal to reach out to the officers, boycotting the meetings over an alleged attack on Chief Secretary Anshu Prakash at the chief minister's residence on February 19 - in "public interest".
In the evening, around 500 Delhi government employees, including Mr Prakash, carried out a candlelight march in solidarity with the top bureaucrat.
In his letter to Mr Baijal, Mr Sisodia said that when an IAS officer goes to the L-G claiming he was scolded by an AAP minister, he wipes his "tears" and despite his "uselessness", the Lt-Governor encourages him to boycott meetings, saying he is standing with him.
The deputy chief minister equated the IAS officers' association with a "khaap panchayat" which issues "fatwa" against the Kejriwal dispensation.
"You (LG) were requested (by the Delhi cabinet) to order some officers two days back to attend meetings, but despite this, you wrote a letter to the chief minister, which suggests that you are openly supporting the 'fatwa' of IAS association under which junior officers are being forced not to attend meetings and speak to ministers..." he said in the letter.
Claiming non-payment of salaries to anganwadi volunteers for three months in his three-page letter in Hindi, Mr Sisodia continued to fire salvo at Mr Baijal, saying: "You are the Lt governor of Delhi. You have also been an IAS officer, but I request you to stop seeing things through spectacles of an IAS officer."
"If I scold them (officers), they would approach you to register their demoralisation in your diary. If we say more, their IAS association issues fatwa against us like a 'khaap panchayat'," the deputy chief minister said.
Mr Sisodia's remark came a day after Mr Baijal wrote to Mr Kejriwal, saying that the alleged assault on Chief Secretary Prakash by AAP MLAs has sent "shock waves" among all sections of government employees across the country and had a demoralising effect on the bureaucracy.
Meanwhile, the AAP demanded registration of cases against IAS officers for "violating service conduct rules" and expressed apprehension that it was being done as part of a "big conspiracy" against the Kejriwal dispensation.
The party alleged that the bureaucrats were indulging in political bickering against the service rules.
Senior AAP leader Ashutosh said two AAP lawmakers were arrested following a complaint of the chief secretary over the alleged assault on him, but there is still no action against those who had attacked Delhi minister Imran Hussain.
During the candlelight march taken out by officers from the Delhi Secretariat to Rajghat, all employees of the city administration observed silence for a few minutes and sang Mahatma Gandhi's bhajan "Raghupati Raghav Raja Ram".
Earlier in the day, a joint forum of the Delhi government employees welcomed Mr Baijal's remarks asking Mr Kejriwal to take the officers into confidence.
The forum reiterated its demand to seek apology from Mr Kejriwal and Mr Sisodia for the alleged assault on Mr Prakash.
The IAS and Delhi, Andaman and Nicobar Islands Civil Service (DANICS) officers have not been attending meetings with Mr Kejriwal and his cabinet colleagues since the alleged assault on the chief secretary.