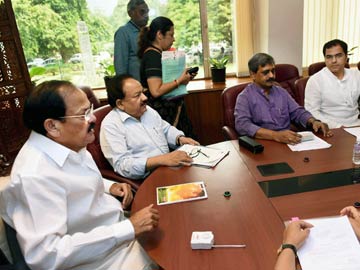 New Delhi:
Elections are yet to be announced in Delhi, which has been under President's Rule since February, but the ruling BJP at the Centre is apparently in campaign mode.
Union Urban Development Minister Venkaiah Naidu held a meeting today with the party's Delhi MPs and civic body heads, and the discussions focused on big plans for the capital.
Government officers have been given two weeks to prepare a concept paper on regularising unauthorised colonies and reassign civic responsibilities between the city's multiple agencies.
The proposed changes also include creating a central agency for maintaining public toilets in Delhi on a public-private partnership basis. The need for better toilet facilities, it may be recalled, won special mention in Prime Minister Narendra Modi's Independence Day speech last Friday.
The BJP also says it wants to make it easier for citizens to get building plans approved.
"There may not be a government in Delhi but that's no reason why work cannot happen," BJP MP Ramesh Bidhuri said after the meeting.
Delhi was placed under President's rule after Arvind Kejriwal, the chief of Aam Aadmi Party, quit as Chief Minister after 49 days in power.
AAP placed second in the November Delhi polls after the BJP, but none of them had enough numbers to form government. Mr Kejriwal finally agreed to take power with the support of the Congress, which was reduced to just eight seats in the 70-member assembly.
Mr Kejriwal has accused the BJP of trying to buy the support of its members and trying to prevent fresh polls in Delhi for fear of a slide in its vote share. Delhi BJP Chief Satish Upadhyay, however, said today, "The party is ready for early elections, however we don't want to be seen putting any pressure on the Lieutenant Governor as this would be wrong."
The BJP said a decision would be taken on Delhi well before President's Rule comes to an end by February.