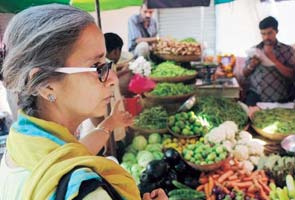 New Delhi:
The pre-monsoon showers across North India, along with the prevailing situation in Uttarakhand, Himachal Pradesh, and poor warehousing facilities, has led to a substantial fall in supply of vegetables, which in turn has caused a steep hike in prices.
In India's capital Delhi, the prices of basic vegetables like potatoes, tomatoes and onion have gone through the roof.
Here are the prices of some vegetables:
Potatoes cost Rs 20-25 a kg, up by Rs 8 per kilo
Onions cost Rs 20-35 per kg, up by Rs 6
Tomatoes cost Rs 70-80 per kg, up by Rs 40
Cauliflower costs Rs 50-60 per kg, up by 25 rupees
Lady finger costs Rs 30-40 per kg, up by 10 rupees
"I have been selling tomatoes for 10 years but never saw such high prices. There is acute shortage in supply and the customer is unhappy," a local vendor at Okhla Mandi, one of the biggest wholesale vegetable and fruit markets in Delhi, says.
The prices are even steeper at retail outlets. At INA market, a popular hub for south Delhi consumers to buy their weekly groceries, consumers are paying much more. Potatoes are at least five rupees costlier, onions almost 15 rupees, and tomatoes are at least 20 rupees costlier.
Several consumers have resorted to buying fewer vegetables to counter the steep prices.
"Earlier I could manage a month's veggies in this amount, now hardly a week," says Mrs Puri, who says she now buys a lot less for her family of four.
Co-operative outlets like Safal, which have been set-up by the state government, are meant to counter the soaring vegetable prices by purchasing produce directly from cultivators and bringing them to consumers, and thus by-passing the middlemen. However, there are frequent complaints from customers about the quality.
It's time the government took corrective actions to improve supply and assure that the prices do not rise further.