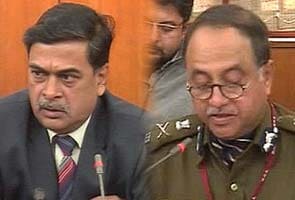 New Delhi:
Home Secretary RK Singh and Delhi Police Commissioner Neeraj Kumar addressed the media on the developments in the Delhi gang-rape case.
Here are the highlights of what they said:

RK Singh, Home Secretary:
As we have indicated, we will chargesheet this case quickly.
After the chargesheet, we will have an expeditious trial.
Our request will be for a day to day trial and we will ask for maximum penalty.
Yesterday I had a meeting with Delhi Police and we discussed ways and means to crackdown on crime.
This is going to be a place where any goondagardi or dadagiri will be swiftly punished.
Large number of such buses which are contract carriages and were illegally plying have been impounded and will remain impounded.
We will auction them after court orders. Licences cancelled.
Licence ID to be displayed in buses, autos and taxis.
Any misbehaviour, complain to us and we will ensure the vehicle is impounded and it doesn't ply.
We will have plainclothes people on the streets, also on buses, and we hope to catch some people.
There is no reason for the Delhi Police to be defensive.
They have investigated and caught five of the six culprits.
If we think dispassionately, any case cracked in one or two days is brilliant work.
We have instructed the authorities about GPS (Global Positioning System). There will be GPS on all buses and all autos.. we have had a meeting with transport commissioner.
We raised with transport commissioner the issue of more buses on routes in the night.
From what I have looked at - I looked for the response of the PCR van.
I was told four minutes. Could they have reached earlier - that is a difficult question... four minutes is okay. Was investigation prompt and effective - yes it was.
So while we have not said no one will be held accountable, prima facie, on both counts, police cannot be faulted.
There is a separate strength sanctioned for VIP security.
There is no diversion of policemen from normal pool.
There are about 2700 people in X, Y, Z and Z+ categories.
I do not agree with people who say capital punishment is bad. But any change in law can be prospective and not retrospective.
Neeraj Kumar, Commissioner of Police, Delhi:
The fourth accused was tracked down to Rajasthan and brought to Delhi on December 18.
Last night we tracked down the fifth accused who is a juvenile so we cannot give details.
Police parties are on the trail of Akshay Thakur a resident of Aurangabad in Bihar, and we hope he will be tracked down soon.
We are hopeful that based on circumstantial evidence, oral evidence and forensic evidence we will be able to secure conviction.
We have added attempt to murder under Section 307 to the charges.
Police Control Room responded within four minutes.
The victims got timely medical aid dues to police response.
729 vehicles prosecuted on December 19 - 181 were buses. 464 vehicles - beat officers removed films.
All vehicles from other states with tinted glasses are being turned back - they will be allowed in Delhi only when tinted glasses are removed.
Crackdown on all charted buses trying to pass off as public carriages.
We are trying to implement a strict regime of permits - tied up with transport departments.
All drivers, cleaners need to be verified and need to have public service vehicle buses.
Anyone from other part of the country driving a public bus needs to be put through a fresh test.
The boy was disoriented - he gave us a vague description. One thing he was clear about is that it was a white bus and deluxe bus.
We started checking all white buses of that description.
We came across the video footage and we could piece together Yadav from the blurred footage.
We then tracked down one Yadav who led us to another person - and we then found the bus and the driver.