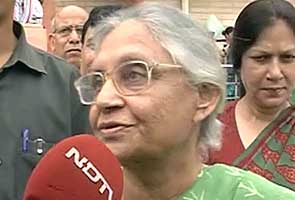 New Delhi:
With a thick haze over the city skyline indicating a sharp drop in air quality, Delhi government said it has been the result of massive burning of straw by farmers in neighbouring Punjab, Uttar Pradesh and Haryana and not due to vehicular pollution.
Chief Minister Sheila Dikshit said her government will soon write to the Union Environment Ministry to impress upon the two states not to allow their farmers to resort to mass-burning of their paddy stubbles.
Apprehending further drop in air quality, Ms Dikshit, after a Cabinet meeting which discussed the smog issue, appealed to the citizens not to burst fire-crackers while celebrating Diwali next week.
"The haze has not been formed because of vehicular pollution in Delhi. Experts have found out that burning of paddy straw in Uttar Pradesh, Punjab and Haryana has caused it as the smoke has found its way to Delhi," Ms Dikshit said.
The Cabinet, expressing its concern over the "unprecedented smog cover", decided to seek intervention of the Central government.
The Chief Minister said Delhi government will write to its Haryana and Punjab counterparts requesting immediate intervention.
"We will also write to Union Urban Development Ministry to take up the issue with the two states as they are member of the National Capital Region Planning Board," Ms Dikshit said.
The NCR Planning Board, which functions under administrative control of Urban Development Ministry, was set up to take up projects for strengthening infrastructure in the NCR region.
Officials said slow wind speed, low temperature and high humidity are other reasons that resulted the haze cover.
"These conditions appear to have led to high dust concentration and higher concentration of oxides of nitrogen as the pollutants are unable to disperse due to inversion phenomenon," they said.
The Cabinet also decided to take up with the Uttar Pradesh and Haryana governments to complete work on peripheral expressways, which would go a long way in avoiding entry of vehicles not heading to Delhi.
In order to ensure that all the vehicles entering in Delhi strictly adhere to pollution norms in respect of vehicular air pollution, Transport department and Police have been asked to launch a special drive for checking the vehicular emission from vehicles.
The Environment department has also decided to get a comprehensive study done by IIT-Kanpur to examine various air pollutants and their role in causing air pollution.
"IIT-Kanpur has been asked to carry out the study," the officials said.
The Cabinet also instructed the Environment department to highlight the causes and effects of haze to citizens.
Ms Dikshit said there was no increase in pollution load from sources of air emission in Delhi as compared to the previous years.
"Delhi has stringent air pollution norms. Further with improvement in power supply, the emission from the diesel generation sets is also under control. Hence, there does not appear to be any immediate contributing factor from Delhi for drop in air quality in Delhi," the officials said.
The city does not even have any polluting industries as these units have already been shifted to NCR region, they said.
The Cabinet directed the Environment department to take up the matter with the Union Ministry of Environment and
Forests for commissioning of a study to find out the sources of pollution and its movement towards Delhi.
The government has already launched a public awareness campaign through print media and FM radio exhorting people not to use fire crackers during festive season.