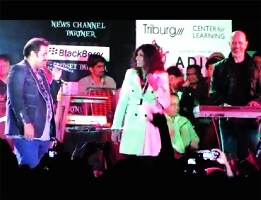 New Delhi:
Delhi University fests are getting bigger. But are they getting any better? We have had reports recently of rampant scalping of tickets at such events.
Now here's a story that raises questions not only regarding the security at such functions but also the attitude of the city police. A third year student of Hansraj College and her two brothers were allegedly brutally beaten up by a group of five assailants during a live show by Shankar Ehsaan Loy that was held at Shri Ram College of Commerce (SRCC) recently.
According to reports, the accused assaulted the girl and her brother who were standing very close to the performers and some security personnel. But no one came to their rescue. The victims reportedly ran outside and approached a constable who helped them reach a hospital. The incident took place around thirteen days ago but Delhi police has not started investigations in the matter and all the goons, who are said to be outsiders, are on the run.
A senior police official said that the incident took place during the college fest 'CrossRoads'. He added that the victims Neeti (name changed on request), who is pursuing B Com (Hons) from Hansraj College, her brother Manas Goyal, a third year student of Ramjas college and cousin, Udyan Garg a Chartered Accountant, visited the SRCC fest on February 2.
"They were standing close to the podium where the singers were performing, when all of a sudden, a group of five persons started beating them up. Manas was the first to be assaulted by them; when Udyan rushed to his rescue, he too was bashed up. The perpetrators then allegedly molested Neeti," said a police source.
He also said that Manas and Udyan suffered injuries on their faces and shouted for help and ran outside from the venue. The accused followed them but retraced their steps when they saw a police constable approaching.
The constable listened to the problem of the victims and advised them to get a Medico Legal Certificate (MLC) for an FIR. Due to the event, the area was facing huge traffic snarls. The constable then hired an auto-rickshaw for them and helped them get to Sant Parmanand Hospital.
The trio underwent treatment and the MLC was prepared. The victims then called the police who lodged an FIR under sections 341 (wrongful restraint), 323 (voluntarily causing hurt), 509 (outraging modesty of a woman) of the IPC. "We took the statement of Udyan and lodged an FIR," said a police official.
Speaking to MiD DAY, Udyan said that though the FIR has been lodged but cops are still clueless about the assailants who dared to attack them during such a high-profile event inside the college campus. "They were speaking in Haryanvi dialect. We were near the stage where the performances were going on. I was holding Neeti's and Manas's hands. All of a sudden, I realized that five persons were dragging Manas. I turned back and saw they had started beating him. I rushed to his rescue and they assaulted me and Neeti as well. We then rushed outside," said Udyan.
Meanwhile, Shrey Gupta, President of the students' union at SRCC said that cops should change their attitude towards college functions. "Police should have started probing the case. Due to lack of security and especially following this incident, students are feeling apprehensive. Security should be beefed up in campus areas," he said. A senior police official said that around 35 police personnel were on duty during the event.
CrossRoads, the SRCC concert was a hit event of the campus. Shankar Ehsaan Loy along with Raghu Dixit performed at the event which went on for three days. The demand for entry tickets had hit the roof. A ticket for a concert by any of these acts usually costs upwards of Rs 5,000, but at a college fest, one can get in for as little as Rs 400. And this is making many cash in on the opportunity. According to reports, tickets of the fest were being sold for Rs 1,000 each.
Delhi University authorities have decided to impose a fee on programmes conducted in open spaces (land) at the North Campus. The Estate Office of the University has fixed a rate of Rs 7,500 per day for sponsored programmes and Rs 5,000 for those without sponsors.
The Arts Faculty is at present the nerve centre of various cultural and political activities in DU. The University seems to have defined public spaces in particularly broad term - so much as to equate the Arts Faculty lawns with its Conference Centre.