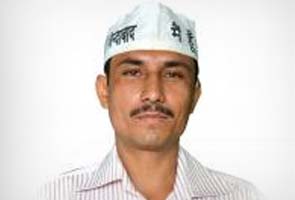 New Delhi:
For someone who had until recently been taking on a different sort of enemy on battlefields far removed from the arena of politics, the Aam Aadmi Party (AAP) candidate for the Delhi Cantonment seat, Surender Singh, is surprisingly unperturbed by his lack of political experience.
For the 35-year-old Mr Singh is a new entrant in politics.
A former National Security Guard (NSG) commando, Mr Singh was part of the team that had fought the 26/11 attackers holed up at Taj Hotel in Mumbai before he quit the Army; but ask him, and he says that politics can be done without any experience.
"It is only the corrupt people who need experience. When our country got freedom, did our leaders have any experience?," he reasoned.
Mr Singh, who was of the rank of Naik in the Indian Army, said he would take guidance from his electors.
"I will work like Anil Kapoor in the film 'Nayak'. He also had no experience. He was a journalist, I was a soldier. I will work as a servant of society, not like a politician. I will be a politician like Netaji Subhash Chandra Bose," he told PTI in an interview.
Hailing from Haryana, Mr Singh served in the Army for 14 years.
He decided to join politics after retiring from active service following the loss of hearing ability during the 26/11 rescue operation.
The AAP candidate is quite confident about his prospects in the December 4 polls.
"For the 2008 elections, there were around 75,000 voters in Delhi Cantt, out of which 10,000 were armymen. This time, out of around 1.25 lakh voters, almost 45,000 are army personnel," he said.
"The whole army votebank and the public which has full faith in it (the Army), will vote for me," he said.
Mr Singh said his priority, if he were to win, would be to work for the education and health sectors.
"There are around 3,500 schools in Delhi in which 18 lakh students study. Half the schools come under MCD, rest under Delhi government. There is a shortage of teachers. And, in some schools, even if they come, they don't teach," he said.
Speaking about the work needed in the health sector in Delhi, Singh said massive efforts were needed to reach medical services to the poor.
As to the "None of the Above" (NOTA) option on electronic voting machines, he said, "NOTA poses no disadvantage to AAP.
We will not give voters a chance to go for the NOTA button by providing them the best options for candidates. Our party is strictly looking into each and every AAP election candidate's record."
As to why he chose AAP, Mr Singh said "I was into social service after retiring from NSG. I used to teach students and motivate them to join army.
"It was only when I met Anna Hazare in Jhajjar (Haryana) that he motivated me saying the country needed people like me.
"You were earlier protecting the country, now its internal politics and society need security'," he said quoting Mr Hazare.
Speaking about AAP's zero tolerance policy towards the corrupt, he said, "If tomorrow a winning AAP candidate gets convicted, including party chief Arvind Kejriwal, he or she would be immediately expelled from the party."
Asked about his motto as he gets ready for his maiden battle in the political ring, Mr Singh said: "Jab sarhad se lekar sansad tak jawan khada hoga, tab hi desh surakshit hoga." (When the youth stand from the border to the parliament, then only will our country be protected)