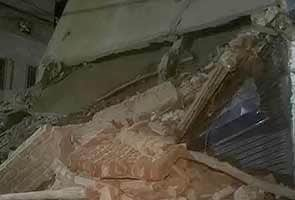 New Delhi:
A four-storeyed building collapsed in north-east Delhi's Jafrabad area in the wee hours today, leaving one person dead. 14 people were rescued from the rubble.
The incident took place at around 2 am following when the building was being demolished. Local police and civic officials immediately rushed to the spot.
The building had shown signs of tilting, following which the owner was issued a notice to demolish the dangerous portion of the building. But as the demolition was underway, the roof collapsed on private labourers, killing one.
"We had noticed cracks and made a call to the police. Later in the night we heard a loud noise and realised the building had fallen and we could hear people trapped calling for help," said an eyewitness, Sajid Ahmed.
At the back of the building, clearly visible is the new construction from second floor onwards. Locals said the building had been under construction. Luckily there were no residents in it at the time of the collapse.
With the rescue efforts on and the East Delhi Municipal Corporation (EDMC) clearing off the debris, the neighbours are scared.
Sarita, who lives in the house next to the demolished building, says, "we did not get any notice before the collapse, now we have been asked to go."
This is not the first time illegal construction has claimed lives in the national capital.
In March 2012, an under-construction building collapsed in Karol Bagh causing the death of four labourers. In September 2011, a building collapsed in Chandni Mahal in Walled City following construction work in a neighbouring plot. Seven people lost their lives in the incident. In November 2010, 70 people lost their lives after a building collapsed in Lalita Park in east Delhi.