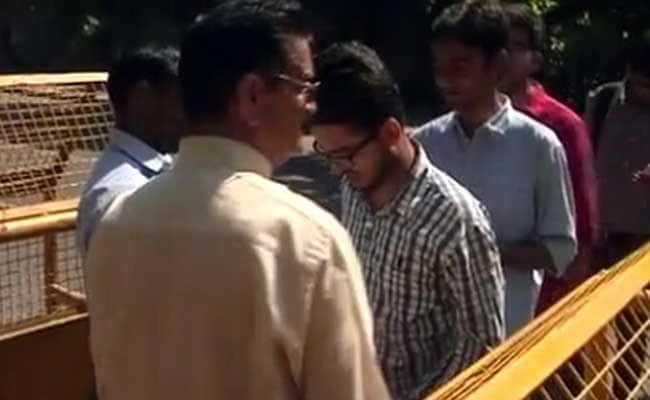 New Delhi:
Excited students lined up in queues, many with their selfie sticks, while policemen dotted the roads of the campuses carpeted with pamphlets during polling today for Delhi University Students' Union (DUSU) elections across 42 colleges.
Rollback of Choice Based Credit System (CBCS) and security for women seems to have been top priority for voters.
Sajal, a first year student of Hindu College said, "I believe that CBCS should be rolled back and hence I have voted for the party which will carry forward the issue. DUSU had played a considerable role in rollback of the Four Year Undergraduate Programme (FYUP) as well".
"I have voted over the issue of women security and infrastructure development of the campus. The sky rocketing cut-offs kept so many students away from DU this year and no new colleges have been opened to accommodate more students," said Mamata Singh, a first year student of Law Faculty.
Traditionally, the fight at Delhi University has been between Congress affiliated National Students Union of India (NSUI) and BJP's Akhil Bhartiya Vidyarthi Parishad (ABVP). This time, the Aam Aadmi Party's students wing, Chatra Yuva Sangharsh Samiti (CYSS), is making its debut.
Social media saw students posting selfies with the #DUSU polls, and students' wing of political parties continued their online campaign with #ABVPOnceMore, #NSUIWinningDUSU and #5387CYSS.
Despite the model code of conduct for DUSU elections, roads across the North and South campus were littered with pamphlets. A total of 80 First Information Reports were registered against those indulging in defacement of walls.
DUSU is the representative body of the students from most colleges and faculties. The elections have been keenly contested over the years, and are considered to be a stepping stone to mainstream politics.
The counting of votes will be taken up tomorrow after which the results will be declared.