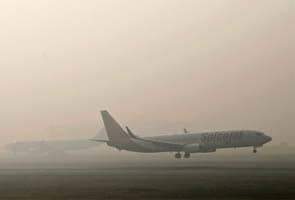 New Delhi:
Flight schedules at Delhi's Indira Gandhi International Airport (IGI) have been disrupted due to a dense fog cover that has enveloped the capital. Around 14 flights have been cancelled, and 15 delayed, as visibility dropped to around 100 metres early this morning.
Operations at IGI were affected as fog started to descend around 10.30 pm last night. At 2.30 am, general visibility and runway visibility dropped to less than 50 metres on the third runway.
On Monday, the flight schedule of around 40 flights was disrupted. New Year's Eve was also the coldest night of the season in Delhi, and 16 flights were delayed overnight.
The Met Office forecasts that the minimum temperature in Delhi is likely to be around six degrees Celsius today and icy winds are predicted.