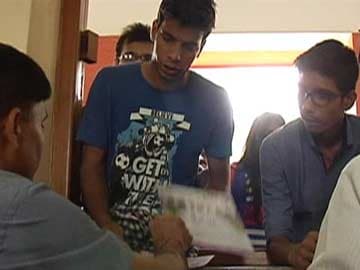 New Delhi:
Sri Ram College of Commerce (SRCC) became the first college to release its cut-off list after Delhi University's controversial Four-Year Undergraduate Programme or FYUP was scrapped last week.
According to the first cut-off list released by SRCC, the cut-off for B Com (Hons) has been kept at 97.5 per cent. The cut-off for commerce students who want to study BA Economics (Hons) is 98.25 per cent and for science students it's 97.25 per cent.
The list will be uploaded on the university's website tonight, sources said, and admissions for academic session 2014-15 will begin from tomorrow, a week behind schedule due to the row over FYUP. Under pressure from the UGC to act on its directive, Delhi University (DU) on Friday scrapped FYUP and reverted to the previous 3-year structure.
Over 2.7 lakh students had applied for admission to DU under the now scrapped FYUP to more than 54,000 seats in 64 colleges of the varsity.
With 2012-13 admission procedure being followed, the cut-off list will no more have B.Tech and Bachelor Management Studies (BMS) courses, which have been discontinued.
The admission to BBS and BA Hons (Business Economics) would be held on the basis of the criteria already announced for BMS admission 2014-15.
On Saturday, DU announced fresh guidelines according to which students who have registered for the current academic year will be eligible for admission to all courses wherever they meet the criteria.