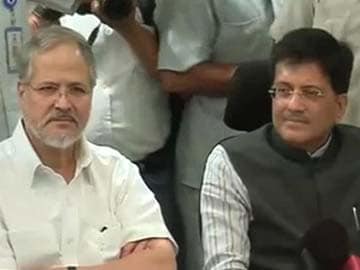 New Delhi:
Sweltering heat in Delhi and massive power outages have the capital begging for relief.
Union Power Minister Piyush Goyal called an emergency meeting with top officials in Delhi today to discuss the crisis. He said a deadline of 10 days has been set to restore three major power lines that were damaged during a recent dust-storm. (
Read: North India Grid Had Load Loss of 8,000 Mega Watts in Friday's Dust Storm
)
The minister said the Congress government, which was in charge of Delhi for 15 years, is accountable for the current crisis. "The crux of the problem is clearly the lack of decision-making, lack of investment in infrastructure and lack of forward planning since 2002," Mr Goyal said.
The city hit a 10-year high yesterday with 45.5 degrees, six degrees above normal. The maximum today is expected to touch 46 degrees. Last evening, parts of the city spent six hours without electricity. (
Heat Wave: Send Your Photos & Videos Here
)
The Met Department says the heat wave will extend till at least Thursday; that news was accompanied by a worrying forecast of an inadequate monsoon. (
Delhi Heatwave Prompts Emergency Measures to Conserve Power
)
The power shortage has turned into a perfect political storm with parties trading charges to fix responsibility. The BJP blames the Congress, which governed the capital for 15 years till it was evicted in December's election.
The BJP and the Aam Aadmi Party or AAP, which led the Delhi government for a 49-day period early this year, are also engaged in political jiu-jitsu over the crisis.
Manish Sisodia, AAP leader and former Delhi minister, led a group of his party's state legislators in a protest this morning at the home of senior BJP leader and union minister Dr Harsh Vardhan.
"The BJP is in power at the Centre and Vardhan is a Union Minister as well as the Delhi BJP President. It is the responsibility of the ruling party at the Centre to address the problem of power supply in Delhi," said Mr Sisodia.
Delhi malls were told they will not receive power after 10 pm and street lamps will be switched off at the same time for three hours. (
No Power for Delhi Malls After 10 pm
)