New Delhi:
A Delhi woman's Facebook post about her harrowing experience with an Uber driver is going viral. In a lengthy post that she put up on an unofficial Uber fan page, the woman details how she was forced to get out of the cab "in the middle of the road" and was even followed by the driver briefly.
Her ordeal, she writes, began on Wednesday morning when she took an Uber cab from her home in south Delhi's Mehrauli to go to her office in Gurgaon. The driver, Sandeep, started giving her "undue attention" the minute she got into the cab and began asking her personal questions, she claims in the post. To avoid conversation, she says she started speaking on the phone. But the driver continued asked her personal questions including where she lived, whether she lived alone and where she worked after she ended the call.
The woman says she then asked the driver "to be professional" in an attempt to end the conversation. That's when the driver, she claims, began driving rashly and nearly hit a car. The driver, she further claims, said, "
Gadi thok du kya dusre gadi mein, tab aapko pata chalega
" (Should I hit another car? That's when you'll learn your lesson). When she threatened to file a complaint against him, she writes that the driver asked her to exit the car "in the middle of the road." She goes on to say that he began following her in the car, seemingly in an attempt to intimidate her. It was only when she pretended to take down the car's licence number that he fled.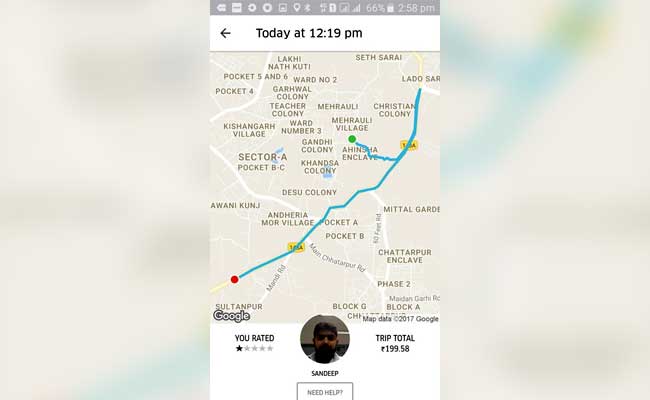 She describes walking to the closest metro station in Sultanpur and booking a cab from a different company. While she waited for the cab, the woman says she gave a detailed description of the incident to Uber via its app's feedback form and instantly received a message saying they would call her. Within minutes, she got a call which, she says, she was unable to answer then.
After reaching her office, the woman returned the call and says that the man who answered claimed to be from Uber's head office. "When I was about to complain, he interrupted me and told me that the driver has made a complaint against me. I was really furious...However I didn't feel that I was talking to someone in customer service, it seemed to me that I was talking to the same driver. At last when I told him that I am going to make a police complaint, he told me the same driver will not come to pick me up again. I tried to explain him that how it can be disastrous if the same person picks other girls and there can be an incident in the future. However, he didn't listen to me and told me he had spent enough time talking to me."
The woman says she recorded this conversation and replayed it for a colleague. The colleague, suspecting it was not an Uber representative she had spoken with, called the same number from his own phone. The man who answered the call said he was an Uber driver.
The woman now says she is now concerned for her personal safety. The Uber driver has her number and knows her home address. "What if the driver comes to my place and disturbs me again as I am pretty sure he can do anything," she writes.
She also expresses concern about Uber's response, or lack thereof. "The driver's reply clearly states that he doesn't care whether you complain to Uber or not. Because he is pretty sure Uber is not going to take any action against him...I am really anxious to know if Uber is cautious enough to be more vigilant and avoid any future risk by not roping in the same person."
In a statement, Uber said that the driver has been "barred from using the app". "We have suggested police assistance and support in the matter, as the rider may deem fit", an Uber spokesperson told PTI. The police say they are yet to receive a complaint from the woman.
Click here to read the full post on Facebook.
(With inputs from PTI)
Election Results for Lok Sabha Election 2019 will be out on May 23. Get the latest election news and live updates on ndtv.com/elections. Catch all the action on NDTV Live. Like us on Facebook or follow us on Twitter and Instagram for news updates from each of the 543 parliamentary seats for the election 2019