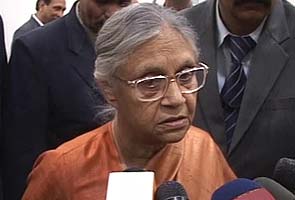 New Delhi:
People living in the Lutyen's Bungalow Zone in Central Delhi may face shortage of water with Chief Minister Sheila Dikshit today ordering a cut in supply to the posh locality including to her residence to improve distribution in other areas.
Areas across the city have been reeling under severe water shortage due to cut in raw water supply.
Keeping in view the acute water shortage across Delhi due to reduction in supply of raw water by Haryana, the Chief Minister instructed the Chief Executive Officer (CEO) of Delhi Jal Board (DJB) to ensure equitable distribution of water so that every family gets reasonable quantity of drinking water, officials said.
"She has ordered the CEO of DJB and Chairperson of NDMC to reduce supply of water to Lutyen's Bungalow Zone and other surrounding areas," they said.
Dikshit has also instructed the DJB to reduce water supply to her residence at 3 Motilal Nehru Marg in the Lutyen's Bungalow Zone.
"Water thus saved can be evenly distributed especially to those colonies which have been facing an acute shortage during the last six days," she said later.
Noting that Delhi was facing an acute water shortage due to cut in supply by Haryana, Dikshit said her government was "sensitive" to the needs of the citizens and would do everything possible to arrange water for the city.
"The Government has been sincerely striving to overcome this extraordinary situation created by cut in supply of water by the Government of Haryana," she said.
Without naming the Bharatiya Janata Party (BJP), Dikshit said nobody will be allowed to take "any political mileage" on this issue.
"The people of Delhi are averse to theatrics by senior opposition leaders," she said, indirectly referring to the city's BJP leaders who have been critical of the Delhi government for the water crisis.
Meanwhile, a meeting between Dikshit and her Haryana counterpart Bhupinder Singh Hooda failed to resolve the water-sharing dispute.