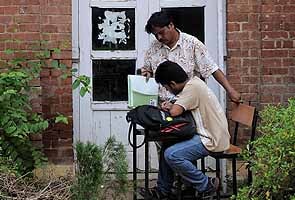 New Delhi:
A year after the Delhi University made headlines with a 100% cut-off, anxious students and parents wait to hear the news this year. How high will they go this time? With 30% more students scoring above 90%, how tough will it be to make the cut for the top colleges? Our expert Gurpreet Singh Tuteja, Deputy Dean, Delhi University answers your Qs.
Shraddha:
Will I be able to carry on with my CA preparation while pursuing B.Com in DU?
Mr Tuteja:
It is a little difficult to pursue CA with regular B.COM from DU as we now have a semester system. B.COM from SOL will be a good option for you.
Rohit:
I have scored 89% in CBSE board this year. Will I get B.Com (hons.) in any of the good colleges?
Mr Tuteja:
If you have studied Mathematics, you have a fair chance in a college to pursue B.Com (Hons.) All DU colleges are good, it depends on how you do in your exams.
Sunil Gupta:
What are the professional prospects of BBE at DU?
Mr Tuteja:
The course of BBE offers many career opportunities. You can work in banks, stock markets, finance and insurance companies, corporations like consulting firms or government departments, investment firms, business journals and newspapers. You can also appear in Indian Economics Services or even opt for MBA, MFC.
Sai Prasanth:
Is M.Fin available at Delhi University. How good is the course compared to CA /CWA?
Mr Tuteja:
We don't have M.Fin but we have MFC which is entrance based.
Sonika:
I have got 90 in B.St, 89 in Economics, 89 in English, 71 in Accounts, 75 in Physical Education and 44 in Maths. I want to pursue Economics Honours from Delhi University, will I be able to get admission in any of the DU colleges?
Mr Tuteja:
You may get admission but your marks in Mathematics are very less and it may be difficult for you to pursue this course.
Shankar:
I am interested in B.Pharmacy? How do I get admission in B.Pharmacy? What is cut off?
Mr Tuteja:
For B.Pharma, please contact Delhi Institute of Pharmaceutical Sciences and Research. Admission is based on merit.
Sumeet:
For admission in B.Sc (Maths or Stats) Maths1 language 2 best science subjects is to be considered. Is Information Practice a science subject? Will colleges consider English, Maths, Chemistry, Information Practice marks?
Mr Tuteja:
Information practice may not be considered in best of four.
Asha:
My niece wants to opt for software developer course. Does DU offer any such course?
Mr Tuteja:
DU doesn't provide any 3 year degree course related to Software development. But you can do B.Sc(Hons.) Computer Science, if you have studied Mathematics upto Class XII.
Rajesh Khatri:
Sir, My sister wants to take admission in B. Sc. first year in Computer Science. Which college of DU would be best suited for her? She has got 87 percent marks in PCM 10 2.
Mr Tuteja:
Your sister can join B.Sc(Hons.) Computer Science. Those students who have PCM in Class XII get 5% benefit in cut-offs.
Aishwarya:
I got the following marks: Maths-99, Chemistry-95, Economics-95, Physics-92, English-87. I wish to do BA Eco (Hon). Will they consider best of four including language or any best four? Can I get admission in St Stephen/SRCC/LSR/HINDU ?
Mr Tuteja:
For B.A (Hons.) eco or any other, best of four includes one language and best three elective subjects. You will get admission in the said course but I can't say about college now.
Parvin:
I scored 98 in Bu. Studies., 95 in Accounts, 98 in Maths, 95 in English and 92 in Economics. Do I stand any chance to get admission for B.Com (H) in SRCC or LSR. Any Luck in Economics ( Hons)?
Mr Tuteja:
Dear Parvin, it's very difficult to predict Cut-off at this stage but a minor positive change is expected as the number of students in 90 brackets has increased as compared to last year.
Siddhant:
What scope does Pol.Science( H ) have?
Mr Tuteja:
The study of political science at the graduation level involves study of both national and international political systems. Apart from understanding how the governments operate, you also learn how individuals, social movements, groups and political parties relate with each other. It also gives you a scope to become a political analyst.
Akriti:
Got 95.25%.. Thinking of getting into SRCC, Hindu... Any chances?.. If not, then which is the best one for me apart from these?
Mr Tuteja:
Why not...You have a good chance. Try other campus colleges and south campus colleges too.!!
Vineet Kumar:
I want to know about the 3-year vocational degree courses by DU. Can these courses be pursued only in DU colleges or through some other private institutions also besides SOL?
Mr Tuteja:
You can do B.A Vocation from College of Vocational Studies situated in Sheikh Sarai, South Delhi. It has various streams like Travel and Tourism, Retail Management etc. You can also do B.A program from any college and select application courses available in that particular college.
Ravneet:
My best of four percentage in 12th standard is 80.5%. Is there any chance for me to get admission in BA (H) in English ?
Mr Tuteja:
Yes, you can get admission in B.A (Hons) English in those colleges where admission is based on merit and not through CATE. Try to fill all college - course combinations in OMR Form.
Chandra Shekhar:
Can I get admission in Bcom with 72 % numbers in my class 12th from CBSE?
Mr Tuteja:
Difficult in regular college for general category. You can try SOL.
Ravneet:
Can I get admission in B.Com with best of four 80.5% in 12th standard of CBSE?
Mr Tuteja:
Yes you may get it in off campus colleges and try evening/afternoon colleges also.
Ananya:
Sir, what are the chances of securing admission in Eco.(hon) ,my marks are 92%?
Mr Tuteja:
Fair chance. Don't stick to one or two colleges... apply in all colleges and in south campus too.
Jatinder:
Can I sit for LLB entrance after completing my graduation in BA Hons English from Delhi univ in 2015 ?
Mr Tuteja:
Yes, if process remains same and you complete your degree with minimum desired marks for meeting eligibility condition for law entrance.
Vijoy Shrivastava:
My son is in XII Commerce with CBSE Board, but is based in Baroda, Gujarat. He wants to take admission in Shri Ram College of Commerce for B. Com. He will score above
90% marks, he is confident. How does he get admission there, please guide.
Mr Tuteja:
Kindly fill the form and wait for the cut-off list. The form is available online on the DU website i.e. www.du.ac.in.
Kunal:
Parents should also encourage their kids in various different fields not only in commerce but also in other fields. Your comments Sir?
Mr Tuteja:
Yes I agree. It should be left to the students to select the course. Parental guidance is a must but not blind imposition.
Mohammed:
I just got to know that colleges offer limited optional subjects in the third year B.Com(Hons). What can I do if the college does not offer my preferred optional subjects?
Mr Tuteja:
You have to contact teacher-in-department in the college or the Principal.
Dhruv:
With the ever soaring cutoffs, it might be great for the exceptional students, isn't it really bad for the average student, who is plunged into a huge identity crisis due to the competition? To follow that up why dont indian universities expand more quality centers to keep pace with the population

Mr Tuteja:
I agree with you. The government must look into this.