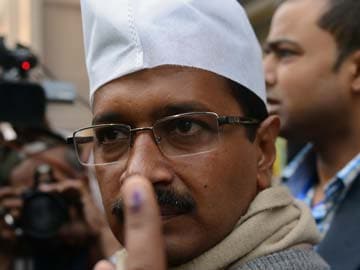 New Delhi:
Delhi turned up in record numbers on Wednesday to vote for its next government. The voting ended at around 8:30 pm with a record voter turnout of 67 per cent. For the first time, the capital has three choices: the incumbent Congress, the main opposition party the BJP, and Arvind Kejriwal's new Aam Aadmi Party.
Here is your 10-point cheat-sheet to Delhi's big day:
The attention-grabber is Arvind Kejriwal, who is leading the city's newest political party. The exit poll of polls- the average of polls conducted by five agencies - shows Mr Kejriwal winning 17 of the 70 seats in the Delhi Assembly, the same as the incumbent Congress. The poll shows the BJP landing 34. (Read)

So far, Delhi's biggest voter turnout was 61.75 per cent in 1993. In the last state election in 2008, the voter turnout was 58 per cent.

Mr Kejriwal, 44, is contesting the election against Sheila Dikshit, 75, who is looking for a record fourth term as chief minister. In their constituency of New Delhi, the voter turnout was over 70%. (Live updates)

Calling the record turnout "good", Ms Dikshit told NDTV, "I can't say anything on what the results will be. I am not an astrologer."

Mr Kejriwal said he will meditate and do "vipassana" till the 7th. Results will be declared on the 8th (Sunday). (Read)

The former tax official and his nine-month-old Aam Aadmi Party are confident of outdoing the Congress and BJP with their promise of a corruption-free government to jaded voters. (Delhi polls: Heavyweights)

Mr Kejriwal's party said the high voter turnout suggests a dramatic shake-up in the political landscape.

The BJP's Chief Ministerial candidate Harsh Vardhan, an E.N.T surgeon and former Health Minister of Delhi, also professed confidence. "We are far ahead of the others," he said. The BJP's campaign highlighted inflation, rising crimes against women and the shortage of power and water in the city of 17 million. (Assembly polls: Full coverage)

The verdict on Sunday of elections in Delhi and three other states - Rajasthan, Madhya Pradesh, Chhattisgarh - will be seen as an indicator of the possible outcome of the national elections, due by May. Results for the polls in Mizoram will be declared on Monday.


The assembly elections are also being viewed by many as a popularity test for BJP's Prime Ministerial candidate Narendra Modi and Congress' lead campaigner Rahul Gandhi.