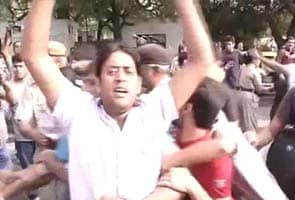 New Delhi:
The temperature may have abated in Delhi since yesterday, but anger over the savage rape of a five-year-old in the city is growing. Police stopped protesters close to India Gate, where prohibitory orders have been imposed.
The students held their sit-in protest near India Gate where the police have put up barricades. Water cannons are also in place. The students allege some of the protesters have been detained. "This shows that police are only interested in stopping peaceful protestors and detaining them while rapists continue to roam freely," said one of them.
The protesters were later moved to ITO from India Gate in police buses.
Protests continue at the Police Headquarters at ITO where activists of Arvind Kejriwal's Aam Aadmi Party (AAP) are demanding the resignation of Police Commissioner Neeraj Kumar. Roads are blocked and traffic disrupted at the entire ITO junction.
The five-year-old girl, whose brutal rape has angered the city, is "stable" after undergoing surgery today at the All India Institute of Medical Sciences (AIIMS). "Her vital parameters are ok and she faces no threat to her life. She is alert and spoke to her parents and doctors," said Dr DK Sharma, medical superintendent of AIIMS.
She was kidnapped on Monday and tortured and raped for three days allegedly by her neighbour, who was arrested in Bihar early on Saturday.
The Prime Minister today stressed that people need to work together to defeat such depravity and that women's safety and security has to be the biggest concern for all. The Prime Minister had ordered that action be taken against the police officer who allegedly slapped a woman protester on Friday at the hospital where the girl was being treated before she was moved to AIIMS. The senior policeman, ACP B S Ahlawat, has been suspended.