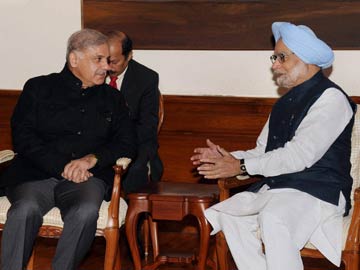 New Delhi:
Chief Minister of Pakistan's Punjab province Shahbaz Sharif today joined the list of foreign dignitaries to take a ride on Delhi Metro, considered one of the best such networks worldwide.
Sharif, younger brother of Pakistan Prime Minister Nawaz Sharif, visited the metro museum at Patel Chowk in Central Delhi before boarding a train to Rajiv Chowk Metro station at around 11 AM.
The Pakistani leader was accompanied by a 20-member delegation comprising ministers of his cabinet and officials from Pakistan High Commission in Delhi.
After deboarding at Rajiv Chowk Metro station, he visited the Metro Bhavan at Barakhamba where he was given a warm welcome by DMRC Managing Director Mangu Singh, who later briefed Sharif about the Delhi Metro project as well as how it was providing quality service to lakhs of commuters daily.
Sources said the Pakistani delegation was impressed with functioning of the metro services and complimented the DMRC officials for running the network efficiently.
Metro officials said the commuters did not face any inconvenience due to travel by the Pakistani delegation.
"The commuters did not face any problem as the delegation travelled at around 11 AM which is a non-peak hour," said a metro official.
A number of top foreign leaders including Japanese Prime Minister Shinzo Abe and Britain's Prince Charles have taken ride on Delhi Metro.
The Delhi Metro is considered one of the most efficiently-run networks.
It had recorded highest ever ridership of over 26 lakh on August 19 this year which surpassed the earlier figure of 25 lakh.
Sharif also met Prime Minister Manmohan Singh and handed over an invitation from Nawaz Sharif to visit Pakistan.