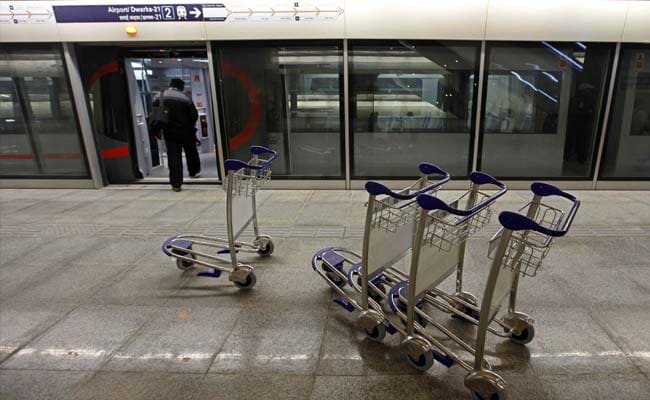 New Delhi:
Delhi Metro's Airport Express Line is beginning to show signs of a "turnaround" with nearly 50 per cent jump in its ridership over the previous year, following a string of measures.
This include the latest move of smart card inter-portability between the Airport Express Line and other corridors, reduction of fares by over 40 per cent, and increasing the frequency of trains.
The premium line had its own smart cards and tokens earlier, valid only for the six stations on this 23-km corridor. It takes about fifteen minutes to reach Airport from New Delhi station on this line.
"We have bucked the whole perception of private companies being more efficient then the public sector. With proper management and planning a turnaround story can be scripted it shows," a senior metro official said.
While in March 2014, a daily ridership of 12,468 was recorded, it has gone up to 19,466 a year later, an increase of nearly 7,000.
For nearly two years authorities struggled to increase ridership on the corridor, that was taken over by Delhi Metro Rail Corporation from Reliance Infrastructure on July 2013, due to high fares and several logistical issues.
Interestingly, the average daily ridership in April, when smart card inter-operability was yet to be made operational, was 17,371. It rose by 13 per cent within a month.
The fares that were slashed by over 40 per cent in July last year also resulted in a marked improvement in its popularity. As per the revised structure, minimum fare on the corridor is now Rs 20 instead of Rs 30 and the maximum fare has been brought down to Rs 100 from Rs 180.
According to data provided by the Delhi Metro, the ridership figure of July, 2013 was 3,12,132 with corresponding average daily ridership of 10,069.
By November 2014, the ridership had jumped to 5,38,293 taking the average daily ridership close to 18,000, as per official data.
Total daily train trips on the corridor have been increased to 168 from 148 upping the frequency on the corridor from 15 minutes to 10 minutes 30 seconds during peak hours.
DMRC took over operations of the Airport link, also known as Orange Line, in July 2013 after Reliance Infrastructure's subsidiary Delhi Airport Metro Express Private Ltd (DAMEPL) terminated its concessionaire agreement.