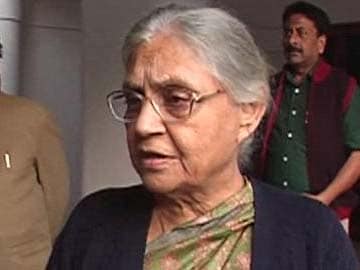 New Delhi:
BJP's prime ministerial candidate Narendra Modi is in Delhi today to give a final push to his party's campaign before next week's assembly elections, but has not been permitted to hold a rally in the New Delhi constituency of Chief Minster Sheila Dikshit.
The New Delhi Municipal Council has turned down the BJP's request to hold a rally in the constituency, denying permission for all four locations that the party had suggested. The civic body has cited security concerns as the reason.
The BJP, which many believe, fears that Arvind Kejriwal's Aam Aadmi Party could split the anti-Dikshit votes, had requested Mr Modi, its prime ministerial candidate and star campaigner, to campaign for an extra day in the national capital.
The BJP is crying foul, saying the Congress is worried about the impact of Mr Modi's rallies in the capital just days ahead of the crucial assembly polls.
When asked whether she saw any 'Modi effect' in Delhi, something that's often talked about these days, Ms Dikshit totally dismissed the suggestion.
"No. He's the leader of the BJP. Like our leaders come here, so he's coming here. That's all. Delhi people that when it comes to Parliament, there he may have an impact. But why should he have an impact on a local election", she said.
Ms Dikshit even quipped that Mr Modi had failed to make an impact in Karnataka which his party recently lost, soon after he was anointed the BJP's PM candidate.
"He went to Karnataka and lost it. Every election is played on the circumstance of that state," she said.
When asked if the party was worried on account of Mr Modi, who has been campaigning extensively in the capital, the Chief Minister said "No, we're not. And I say this quite emphatically. There's a logic to it. People are logical. Please remember that. Don't underestimate people. They understand and they know what they're voting for and how they're voting".
This Delhi election is said to be a tight contest and one that could decide the fate of many, including the political future of the three-time Chief Minister as well as the new kid on the block, Arvind Kejriwal, making his electoral debut.