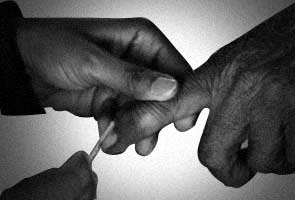 New Delhi:
To ensure free and fair polls, Delhi Election Commission has put in place a surveillance mechanism to weed out "bogus" voters in the city, including in constituencies represented by senior leaders of the various political parties.
Special teams comprising officials and police personnel would be deployed by DEC to identify "bogus" as well as "non-existent voters".
"Special teams are being formed to check non-existent and bogus voters," a senior official of DEC said.
He said DEC had prepared the electoral rolls "very carefully" and added that efforts will continue to ensure that bogus voters do not vote.
Referring to a survey by the Commission last year which found a whopping 15 lakh non-existent voters in Delhi, the official said every effort would be made to ensure no bogus voting took place during the December 4 Assembly elections.
DEC had conducted a door-to-door survey last year during which it found there were 15 lakh non-existent voters, including those who may have died or shifted to other places.
Over two lakh people have applied for registration as voters since last month and around 50,000 of them have filed their applications in the last one week.
Following the rush for inclusion of names in the voters' list, the Commission has extended the date for accepting applications till November 6.
It has also directed booth level officers (BLOs) to verify the applications before the list for the Assembly elections is finalised.
According to officials, Delhi has a total of 1.15 crore registered voters and the female-male ratio stands at 804 to 1,000 Giving details of last year's survey, DEC officials said a maximum of 56,000 non-existent voters were found in Karawal constituency, followed by 46,000 in Matiala and 41,000 in Uttam Nagar.
In New Delhi constituency, 34,000 non-existent voters were identified while 17,000 such voters were detected in Gandhi Nagar. The number of non-existent voters found in Ballimaran was 21,000 followed by 22,000 in Mangolpuri, 23,000 in Laxmi Nagar and 31,000 in Greater Kailash, the officials said.
After the survey, DEC had started an exercise under which all 15 lakh non-existent voters were issued notices asking them to prove that they were "rightful residents" of the places they have shown in their addresses.
After only 1.99 lakh people submitted proof of residence and other required documents, DEC removed the names of 13.1 lakh voters who had failed to respond to its notices.
Get the latest election news, live updates and election schedule for Lok Sabha Elections 2019 on ndtv.com/elections. Like us on Facebook or follow us on Twitter and Instagram for updates from each of the 543 parliamentary seats for the 2019 Indian general elections.