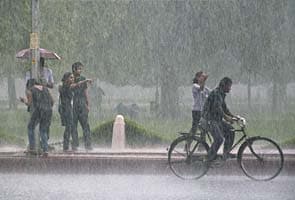 New Delhi:
It was a pleasant day in New Delhi on Friday as the skies remained cloudy for a major part of the day. The Met office has predicted pleasant weather conditions on the weekend with thunderstorms, hail and light rain in some parts of the city on Saturday.
"Skies will be generally cloudy with rain or thundershowers in some parts of the national capital late night and the weekend, due to western disturbances," said an official of the India Meteorological Department (IMD).
According to IMD, traces of rainfall were recorded in the capital.
"There was traces of rainfall, which was non-measurable," the IMD official said.
The maximum temperature on Friday touched 23.2 degree Celsius which was a notch below average, while minimum temperature hovered around 12.7 degree Celsius, two notches above the average for this time of the season.
The maximum humidity level was 91 percent and the minimum 51 percent.
Saturday's maximum and minimum temperatures are expected to hover around 21 and 13 degrees, respectively.
Thursday's maximum temperature was 26.7 degrees Celsius - three notches above average for the season, while the minimum temperature was average for this time of the season at 10.2 degrees Celsius.