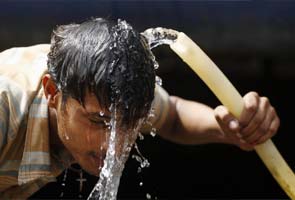 New Delhi:
The national capital is suffering from temperatures hovering close to 45 degrees and the weatherman predicts hotter days his week.
The maximum temperature was recorded five notches above normal at 44.9 degrees Celsius on Wednesday at Safdarjung weather station, while the minimum was four degrees above normal at 30.3 degree C. The readings at Safdarjung station is taken as the official figures for the capital.
On Tuesday, the maximum had touched the highest for the season at 45.1 degree Celsius.
The humidity level hovered between 18 and 40 per cent.
Meteorological Department predicted a clear sky on Thursday with maximum and minimum temperatures likely to be around 45 degree C and 31 degree C respectively.
The Weatherman has predicted that mercury is likely to "peak" on May 23 and 24. However, there could be some relief next week with the heat wave conditions abating in the capital.
"The maximum temperatures over the region including Delhi are likely to peak during 22-24th May. Therefore, the last three days (May 22, 23, 24) of the week long spell would be the hottest," a statement said.
However, providing a glimmer of hope, the Met department also said that an approaching western disturbance is likely to break the anticyclone over the region and moderate the intensity of the hot air advection, thereby reducing the maximum temperature by about 2 degree Celsius from May 26 onwards.
Thus, the coming week may mark a change from the present heat wave conditions prevailing over North West India including Delhi NCR," the statement said.