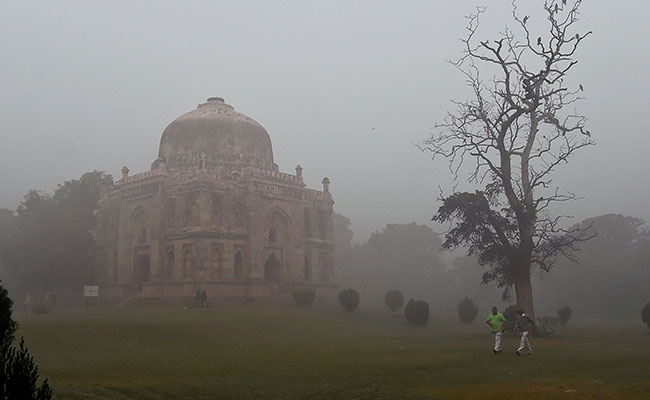 New Delhi:
Even as Delhi remained wrapped in a thick blanket of haze and dust for the fourth consecutive day, there is relief in the offing. The India Meteorological Department (IMD) has said that strong winds from the west will clear the dusty stagnant air in the next 24 hours. Thunderstorms are also expected at isolated places over the city in the next days, an IMD official said. However, several areas in the national capital struggled with "hazardous" air quality after the pollution level plunged to "severe" yesterday. The breathlessness, burning of eyes and irritation in the throat accompanied by searing heat aggravated distress. Visibility remained poor and the winds gusted at 35 km per hour. The PM10 level, presence of particles with diameter less than 10mm, was over 700 in Delhi-NCR leading to hazy conditions. The AQI of RK Puram and Anand Vihar were recorded 948 and 999. The "severe" air pollution level in summer months means it's no longer a winter-only phenomenon as was believed earlier.
Here are 10 points on this story:
For Delhi, which is reeling under scorching heat, it's a double whammy as the dust in the air isn't allowing the heat to escape. People have been advised to avoid staying out for long hours unless necessary.

"Strong dust raising winds of the order of 25-35 kmph likely to continue over Rajasthan, Punjab, Haryana, Chandigarh and Delhi and west Uttar Pradesh during next 24 hours," the IMD said. Thunderstorm accompanied with gusty winds and lightning likely at isolated places over Jammu and Kashmir, Punjab, Haryana, Chandigarh and Delhi , Rajasthan, east Uttar Pradesh, Bihar and north coastal Tamil Nadu, it added.

The AQI at Punjabi Bagh was 842, 687 at Mandir Marg, 686 in Okhla and 457 at ITO. An air quality index (AQI) between 0-50 is considered "Good", 51-100 "Satisfactory", 101-200 "Moderate", 201-300 "Poor", 301-400 "Very Poor", and 401-500 "Severe".

Environment Minister Dr Harsh Vardhan had said that a dust storm from Rajasthan was responsible for the deterioration of air quality and high levels of PM10.

Among several measures taken to improve the air quality, all construction activities have been stopped, fire officials has been directed to sprinkle water and machines will sweep streets. Lieutenant Governor Anil Baijal on Thursday ordered that all civil construction activities across the national capital will be put on hold till June 17.

Haryana's Pollution Control Board has also issued an advisory "that no construction activities be carried out for the next 48 hours and no Hot Mix Plants and Stone Crushers be operated for the next 48 hours, in NCR Districts of Haryana".

Experts say that the pollution in Delhi has been worse than the smog episode in November last year. The Central Pollution Control Board, however, said the pollution of this season was different from November last year when both PM2.5 and PM10 had spiked. The current increase in levels of pollution is mainly due to drastic increase in coarse particles in air which has caused a spike in PM10 level, it said.

Dust storm affected other north Indian cities as well. All IndiGo domestic flights have been cancelled at the Chandigarh Airport due to poor visibility following dust storm. Several airlines issued advisories and informed passengers about delays due to bad weather.

A number of dust storms have struck the northern India several times in the last few weeks that left at least 125 people dead and over 200 injured. Trees were uprooted, homes and businesses were destroyed in the storms.

Thirteen people were killed and at least 28 others injured due to powerful dust storms and thunderstorms in different parts of Uttar Pradesh on Wednesday. Two weeks ago, 15 people were killed and nine others injured in similar thunderstorms and dust storms across UP.