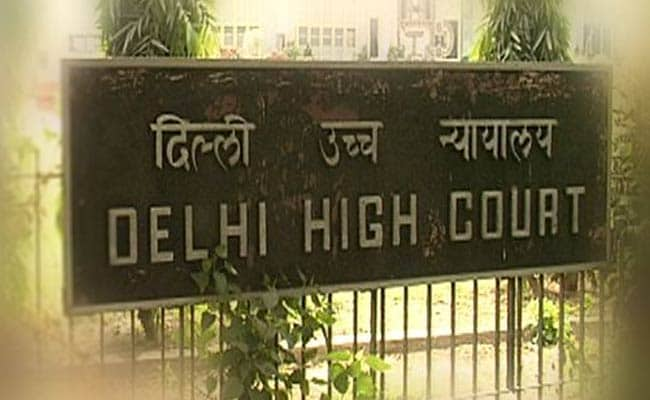 New Delhi:
The Delhi High Court on Saturday extended the interim bail of 2,177 under-trial prisoners by 45 days to de-congest jails in the wake of the coronavirus pandemic.
A bench of Justices Siddharth Mridul and Talwant Singh passed the order in view of a high-power committee's recommendation that it would be dangerous to put the prisoners back in jail as the risk still remains high.
The committee, headed by Justice Hima Kohli, on May 5 opined that since there was a paucity of space in jail premises to create sufficient number of isolation wards for the prisoners returning after expiry of their interim bail, the relief should be extended by another 45 days.
During the hearing, Delhi government standing counsel Rahul Mehra and advocate Chaitanya Gosain, appearing for the prison authorities, said they have no objection to the extension of bail.
"Accordingly, it is ordered that the interim bails for a period of 45 days granted to 2,177 UTPs, in view of the recommendations of HPC...are hereby extended by another period of 45 days from the date of their respective expiry of interim bails on the same terms and conditions," the bench said.
It also directed the Director General (Prisons) to ensure that the order was conveyed to all 2,177 under-trial prisoners (UTPs) by telephone and other available modes and listed the matter for hearing on June 22.
The committee, which was formed on the order of the Supreme Court to lay down guidelines to decongest jails and prevent spread of the coronavirus, was also of the view that moving a separate application on behalf of each of the 2,177 UTPs would be "cumbersome" and lead to wastage of judicial time.
Therefore, it had recommended that the high court be requested to pass a judicial order to extend the interim bail of the prisoners by 45 days.
The matter was placed before Chief Justice DN Patel, who on May 7 issued verbal directions to set up the bench on Saturday, May 9.
World
Coronavirus has spread to 199 countries. The total confirmed cases worldwide are 59,03,22,316 and 64,35,567 have died; 54,02,62,945 are active cases and 4,36,23,804 have recovered as on August 15, 2022 at 8:21 am.
India
4,36,23,804

14238
Recovered
In India, there are 4,42,68,381 confirmed cases including 5,27,069 deaths. The number of active cases is 1,17,508 and 4,36,23,804 have recovered as on August 15, 2022 at 8:00 am.
State & District Details
State
Cases
Active
Recovered
Deaths

8072340 2082

12102 255

7912067 1824

148171 3

Sri Potti Sriramulu Nell*

296

2334877 192

1226 27

2318918 165

14733

4031283 1837

10922 817

3980172 1017

40189 3

253997 87

1040

249102 94

3855

3558788 759

7406

3513349 1033

38033

6737396 1007

9030

6657723 1145

70643 5

1170861 118

1846

1154925 270

14090 2

Jayashankar Bhupalapally

9

829202 291

3446

821645 396

4111

1322671 488

3360

1310156 1146

9155 1

1052200 129

899

1040538 182

10763

1265453 599

4066

1250396 737

10991 1

1301522 882

5036 737

1286893 145

9593

1042580 802

4862

1027064 913

10654

2113982 804

5454

2084943 980

23585 2

1984595 2162

8430 325

1949784 1832

26381 5

742804 126

3445 86

731332 39

8027 1

43082 29

279

42324 67

479

845855 179

799 10

832769 169

12287

2102487 479

5687

2075378 674

21422 2

North And Middle Andaman

1

10514

18

10367 6

129

172671 622

1027 573

169677 49

1967

66402 6

181

65925 21

296

35870 4

36

35059 7

775 2

11566 4

10 1

11552 3

4

441357 14

525

435502 45

5330

107578 4

228

106413 26

937

29077 3

73

28776 21

228

473782 563

4463

464542 679

4777

307628 146

2952

300492 217

4184 1

Shahid Bhagat Singh Nagar (Nawanshahr)

99

779421 256

14467 254

747101

17853 2

446287 109

1977 3

436583 105

7727 1

139508 6

164

137201 25

2143

97981 92

611

96195 125

1175 1

96170 36

522 12

94035 24

1613

235179

919

233543 57

717

11415

0

11363

52