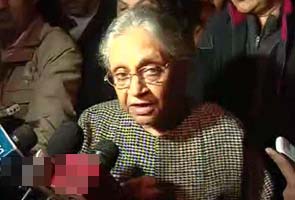 New Delhi:
The Comptroller and Auditor General (CAG) yesterday tabled its report in the Delhi assembly, slamming the Sheila Dikshit government for the performance of many of its departments.
The state auditor severely criticised projects and schemes by the healthcare, transport, power and water departments of the Delhi government.
The report said the health department's ambulances are misused or unused, and are not even equipped with basic facilities. The auditor's report also said that scrutiny of records and interaction with patients revealed that many essential drugs are not available at many occasions in hospitals like Deen Dayal Upadhyay (DDU) and Guru Tegh Bahadur.
The CAG slammed Delhi Transco Ltd, a Delhi government company in-charge of major power transmission lines, for not being able to recover an amount of Rs 754.83 crore as transmission charge from BSES Rajdhani Power Ltd and BSES Yamuna Power Ltd.
The report found that under assessment, irregular claims of exemption and other shortcomings in tax collection system of Delhi Government have caused the exchequer a loss of over Rs 2,300 crore in 2011-12.
Public Sector Units in Delhi incurred a total loss of Rs 645.50 crore during the financial year 2011-12, the report said. The major contributors to losses were Delhi Transport Corporation (Rs 2335.13 crore) and Delhi Power Company Limited (Rs 82.64 crore) while the PSUs which made profit are Delhi Transco Limited (Rs 1005.33 crore), Indraprastha Power Generation Company Limited (Rs 397.14 crore), Pragati Power Corporation Limited (Rs 220.26 crore), Delhi State Industrial and Infrastructure Development Corporation Limited (Rs 123.52 crore) and Delhi Tourism and Transportation Development Corporation (Rs 20.86 crore).