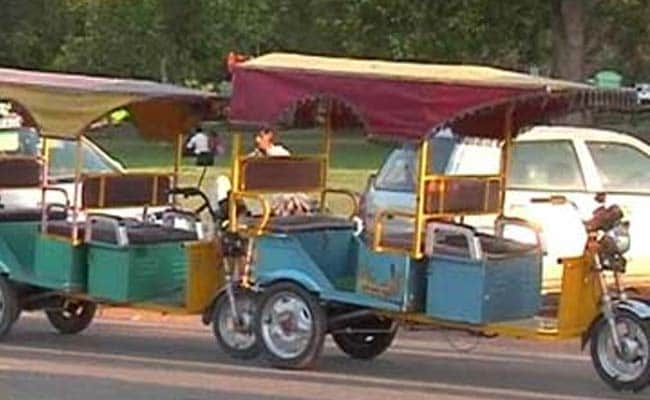 New Delhi:
A Bill seeking to pave the way for plying of e-rickshaws on Delhi roads was passed by the Lok Sabha today.

It is the third ordinance to be replaced by a bill passed by the Lower House since yesterday, the others being the Citizenship (Amendment) Bill and the Mines and Minerals (Development and Regulation) Amendment Bill.

Replying to the debate on the Motor Vehicles (Amendment) Bill, Road Transport Minister Nitin Gadkari said while ensuring that the livelihood of one lakh e-rickshaw drivers is protected, the government would not compromise on the issue of safety.

He said since all e-rickshaws were being manufactured in India, his ministry has asked the association of e-rickshaw owners to ensure stringent quality control of parts used to manufacture the vehicles and 17 standards have been set for the purpose.

Rejecting the contention that the ordinance was aimed at garnering votes for BJP ahead of Delhi assembly polls, Mr Gadkari said as the Rajya Sabha did not pass the bill, government had to promulgate the ordinance to help the e-rickshaw owners.

In an effort to check cartelisation, the driver of the vehicle will be owner and no one else will get the licence, he said.


E-rickshaws, or battery-operated three-wheeler vehicles, had gone off the roads after the Delhi High Court banned their plying in July last on grounds of safety and insurance issues.
An earlier Bill to regularise e-rickshaws was passed by the Lok Sabha in the Winter Session but as it was stuck in the Rajya Sabha, the government issued the ordinance. The earlier bill has since been withdrawn.
The government had in October last notified the rules for plying of e-rickshaws and made driver's licence mandatory for operating them and limiting their speed to 25 kilometer per hour.
The new rules provide that e-rickshaws will be allowed to carry four passengers and 40 kilogram luggage while e-carts would transport goods up to 310 kilogram.