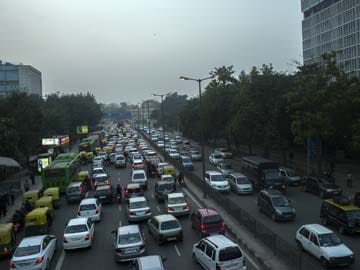 New Delhi:
In mid-January, air pollution in Beijing was so bad that the government issued urgent health warnings and closed four major highways, prompting the panicked buying of air filters and donning of face masks. But in New Delhi, where pea-soup smog created what was by some measurements even more dangerous air, there were few signs of alarm in the country's boisterous news media, or on its effervescent Twittersphere.
Despite Beijing's widespread reputation as having some of the most polluted air of any major city in the world, an examination of daily pollution figures collected from both cities suggests that New Delhi's air is more laden with dangerous small particles of pollution more often than Beijing's. Lately, a very bad air day in Beijing is about an average one in New Delhi.
The U.S. Embassy in Beijing sent out warnings in mid-January, when a measure of harmful fine particulate matter known as PM2.5 for the first time this year went above 500, in the upper reaches of the measurement scale. This refers to particulate matter less than 2.5 micrometers in diameter, which are believed to pose the greatest health risk because they penetrate deeply into lungs.
But for the first three weeks of this year, New Delhi's average daily peak reading of fine particulate matter from Punjabi Bagh, a monitor whose readings are often below those of other city and independent monitors, was 473, more than twice as high as the same average in Beijing of 227. By the time Beijing had its first pollution breach past 500 on the night of Jan. 15, Delhi had already had eight such days. Indeed, only once in three weeks did New Delhi's daily peak value of fine particles fall below 300, a level more than 12 times the exposure limit recommended by the World Health Organization.
"It's always puzzled me that the focus is always on China and not India," said Angel Hsu, director of the environmental performance measurement program at the Yale Center for Environmental Law and Policy. "China has realized that it can't hide behind its usual opacity, whereas India gets no pressure to release better data. So there simply isn't good public data on India like there is for China."
Experts have long known that India's air is among the worst in the world. A recent analysis by Yale researchers found that seven of the 10 countries with the worst air pollution exposures are in South Asia. And evidence is mounting that Indians pay a higher price for air pollution than almost anyone in the world. A recent study showed that Indians have the world's weakest lungs, with far less capacity than Chinese lungs. Researchers are beginning to suspect that India's unusual mix of polluted air, poor sanitation and contaminated water may make the country among the most dangerous in the world for lungs.
India has the world's highest death rate because of chronic respiratory diseases, and it has more deaths from asthma than any other nation, according to the World Health Organization. A recent study found that half of all visits to doctors in India are for respiratory problems, according to Sundeep Salvi, director of the Chest Research Foundation in Pune.
Clean Air Asia, an advocacy group, found that another common measure of pollution known as PM10, for particulate matter less than 10 micrometers in diameter, averaged 117 in Beijing in a six-month period in 2011. In New Delhi, the Center for Science and Environment used government data and found that an average measure of PM10 in 2011 was 281, nearly 2 1/2 times higher.
Perhaps most worrisome, Delhi's peak daily fine particle pollution levels are 44 percent higher this year than they were last year, when they averaged 328 over the first three weeks of the year. Fine particle pollution has been strongly linked with premature death, heart attacks, strokes and heart failure. In October, the World Health Organization declared that it caused lung cancer.
The U.S. Embassy in Beijing posts on Twitter the readings of its air monitor, helping to spur wide awareness of the problem. The readings have more than 35,000 followers. The United States does not release similar readings from its New Delhi embassy, saying the Indian government releases its own figures.
In China, concerns about air quality have transfixed many urban residents, and some government officials say curbing the pollution is a priority.
But in India, Delhi's newly elected regional government did not mention air pollution among its 18 priorities, and India's environment minister quit in December amid widespread criticism that she was delaying crucial industrial projects. Her replacement, the government's petroleum minister, almost immediately approved several projects that could add considerably to pollution. India and China resisted pollution limits in global climate talks in Warsaw in November.
Frank Hammes, chief executive of IQAir, a Swiss-based maker of air filters, said his company's sales were hundreds of times higher in China than in India.
"In China, people are extremely concerned about the air, especially around small children," Hammes said. "Why there's not the same concern in India is puzzling."
In multiple interviews, Delhiites expressed a mixture of unawareness and despair about the city's pollution levels. "I don't think pollution is a major concern for Delhi," said Akanksha Singh, a 20-year-old engineering student who lives on Delhi's outskirts in Ghaziabad, adding that he felt that Delhi's pollution problems were not nearly as bad as those of surrounding towns.
In 1998, India's Supreme Court ordered that Delhi's taxis, three-wheelers and buses be converted to compressed natural gas, but the resulting improvements in air quality were short-lived as cars have flooded the roads. In the 1970s, Delhi had about 800,000 vehicles; now it has 7.5 million, with 1,400 more added daily.
"Now the air is far worse than it ever was," said Anumita Roy Chowdhury, executive director of the Center for Science and Environment.
Indians' relatively poor lung function has long been recognized, but researchers assumed for years that the difference was genetic.
Then a 2010 study found that the children of Indian immigrants who were born and raised in the United States had far better lung function than those born and raised in India.
"It's not genetics; it's mostly the environment," said MyLinh Duong, an assistant professor of respirology at McMaster University in Hamilton, Ontario.
In a study published in October, Duong compared lung tests taken in 38,517 healthy nonsmokers from 17 countries who were matched by height, age and sex. Indians' lung function was by far the lowest among those tested.
All of this has led some wealthy Indians to consider leaving.
Annat Jain, a private equity investor who returned to India in 2001 after spending 12 years in the United States, said his father had died last year of heart failure worsened by breathing problems. Now his 4-year-old daughter must be given twice-daily breathing treatments.
"But whenever we leave the country, everyone goes back to breathing normally," he said. "It's something my wife and I talk about constantly."
© 2014, The New York Times News Service