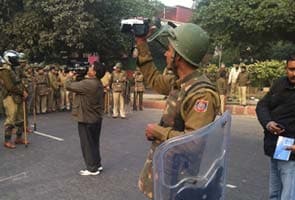 New Delhi:
To Delhi's great relief, a lengthy face-off between student protesters and the police ended peacefully this evening near India Gate.
A group of about 300 protestors held up placards and shouted slogans for about two hours after arriving at one end of Zakir Hussain Marg, where four rows of policemen and barricades obstructed their path. Some of the cops used video cameras to tape the demonstrators so that if the rally turned violent, it would be possible to identify who was responsible.
The gang-rape of a young woman on a moving bus in Delhi on December 16 has served as the brutal inception point for a new public demand for change. She was flown last night to Singapore; the hospital there said she is in critical but stable condition.
The demonstrators today asked the government to "commit or quit", summarising the call in different cities for increased safety for women through better policing and stricter anti-rape laws.
India Gate and most parts of Delhi have been declared off-limits by the police for demonstrations after protests over the weekend erupted in violence. The police used tear-gas, water cannons and batons against the thousands of protesters; a constable on duty collapsed and was rushed to hospital where he died on Tuesday.
The protesters today, who belong to different organisations, campaigned for the removal of the city's Police Commissioner Neeraj Kumar, as well as fast-track trials for rape cases and stricter laws for crimes of sexual assault.