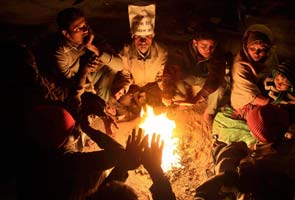 New Delhi:
Delhi has never been so bone-chillingly cold as it was on Wednesday. At 9.8 degrees Celsius, the maximum temperature in the Capital was the lowest in 44 years.
This was also 11 degrees below normal. The minimum temperature was 4.8 degrees. At Palam, on the fringes of Delhi, the maximum temperature was 9.7 degrees.
On Tuesday, Delhi recorded a maximum temperature of 15.2 degrees, five below normal, and a minimum of 4 degrees. New Year's Eve was equally chilly - maximum at 13.3 degrees and minimum at 5.5.
Stoking the chill are the thick fog cover in the mornings, the depleted sunshine and icy winds. The caps, mufflers, gloves and long coats are out.
Visibility on the main runways at the Indira Gandhi International Airport was around 50 metres. More than 30 flights were delayed. Seven flights were cancelled. A flight from Hong Kong was diverted to Mumbai.
Beyond the Capital, a severe cold wave continues to sweep northern India.
Large parts of Punjab and Haryana remained fogged out and gripped by the cold. The weather department said there would be no respite for the next two or three days.
Narnaul in Haryana was the coldest in the plains of both the states - the minimum temperature was 2.4 degrees, three degrees below normal.
Bhiwani and Hisar had a minimum temperature of 3.6 degrees and 4 degrees respectively. Ambala shivered at 5.5 degrees and Karnal at 5 degrees Celsius. In Chandigarh, the minimum was 4.2 degrees while it was 7.2 degrees in Amritsar.
Churu was the coldest in Rajasthan with a minimum temperature of 1.6 degrees Celsius.
(With inputs from agencies)