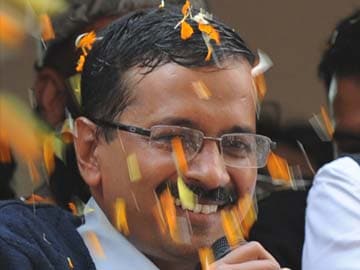 New Delhi:
Arvind Kejriwal's year-old Aam Aadmi Party (AAP) made a spectacular electoral debut in Delhi and won 28 of the state's 70 seats, just four behind the BJP, which is on top.
Like Mr Kejriwal, who defeated three-time chief minister Sheila Dikshit in her constituency by 25,000 votes, most of the newly elected AAP members were political novices who are now being called "giant killers".

Here's a look at some of them:Arvind Kejriwal
, a former tax official, left his job in 2001 and became an anti-corruption campaigner. His campaign to bring the Right to Information Act in India in 2005 earned him the Ramon Magsaysay Award. He then teamed up with activist Anna Hazare to demand the anti-corruption Lokpal Bill before launching his own party in November 2012.

Rakhi Birla
, a former journalist with a private news channel, trumped three-time Congress MLA and minister Raj Kumar Chauhan, who was indicted by the Delhi Lokayukta in a land-grab case. The 25-year-old defeated Mr Chauhan by a margin of 10,585 votes in the Mongolpuri constituency in north Delhi. Her father was associated with the Congress for a long time but quit the party in 2011, during the Jan Lokpal movement.
Ashok Kumar Chauhan
, 53, from Ambedkar Nagar upstaged Congress veteran Prem Singh, who has not lost any elections from this constituency since 1958 and has won a record 10 consecutive terms from the same constituency. The former junior cricketer also defeated BJP stalwart Khushi Ram Chunar by over 11,000 votes.
Surendra Singh
, a former NSG commando from Haryana who fought terrorists during the 26/11 attacks, defeated BJP's Karan Singh Tanwar by a wafer-thin 355 votes in the Delhi Cantt constituency. He served in the Indian army for 14 years and fought in the Kargil War. He was injured in a grenade explosion during the Mumbai attacks and was discharged as a medical board ruled him unfit for service.
Ashok Kumar Binny
from Laxminagar constituency toppled Delhi Health Minister AK Walia by a margin of 7,752 votes. He is no rookie, having won twice as an independent candidate, but his idea of 'mohalla sabhas' or neighbourhood meetings to connect directly to the people was an inspiration for the AAP.
Prakash Jarwar
, 25, from Deoli defeated BJP's Gagan Rana and Congress MLA Arwinder Singh.
He left his job as an assistant manager with a multinational company to run a campaign for those deprived of government schemes. He also worked as an active volunteer in the Jan Lokpal movement.
Rajesh Garg
won from the BJP stronghold of Rohini defeating party heavyweight Jai Bhagwan Aggarwal by a margin of 1,872 votes. His wife is an RTI activist associated with the Congress for a long time.
Veena Anand
, a social activist, defeated BJP's Poornima Vidyarthi by a margin of 6262 votes in Patel Nagar constituency.