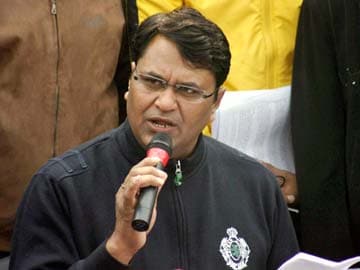 New Delhi:
The Aam Aadmi Party (AAP) on Sunday expelled rebel legislator
Vinod Kumar Binny
less than two weeks after he called Delhi Chief Minister
Arvind Kejriwal
a "liar" and a "dictator" and also accused the party of straying from its principles and poll promises.
According to a statement released by AAP, a disciplinary committee formed by the party has decided to expel Mr Binny and terminate his primary membership for "publicly making false statements against the party and its leadership." (
Read statement
)
"Nothing can be more unfortunate than to remove a person who spoke about the problems of Delhi," Mr Binny said.
His expulsion however will have little impact on the month-old AAP government which will continue to be in majority in Delhi with support from the Congress.
In a press conference on January 16, Mr Binny had unleashed a direct attack on his party, saying, "It does not function democratically. Five people take all the decisions, Arvind gets angry if people express any differences with him. He is a dictator. If anyone speaks against him, he starts shouting."
The 39-year-old legislator had also accused the party of being "unfair" in distributing tickets and had said it had failed to deliver on its pre-poll promises.
"On women's safety, AAP should be ashamed. Its leaders have done nothing to provide more security for women, they haven't even started discussing it," Mr Binny had said after a Danish woman was allegedly gang-raped in Delhi on January 14.
Last month, Mr Binny, a former Congressman, had stormed out of a meeting in which the AAP decided its members for the cabinet, but he was reportedly talked out of escalating the crisis. He was reportedly then promised the post of parliamentary secretary to Chief Minister Kejriwal, which is equivalent to cabinet rank.
A few weeks later, Mr Kejriwal charged Mr Binny with angling for a ticket to contest the national election, due by May. "First he came for a ministerial post, we refused. Then he came for a Lok Sabha seat. We have decided that no MLA will contest the Lok Sabha polls. If anyone wants to leave the party, they can," he said of Mr Binny.
Mr Binny, however, vehemently denied it, saying "It is the biggest lie if he has said that I went and spoke to him about a Lok Sabha seat or elections or an election ticket."
Mr Binny, one of AAP's giant-killers in the Delhi election in December, had defeated Congress heavyweight Dr AK Walia, finance minister in the Sheila Dikshit government.