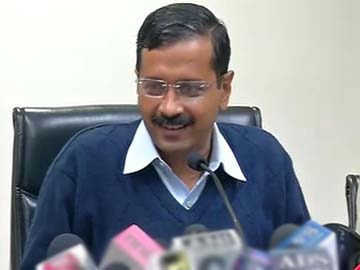 New Delhi:
Chief Minister Arvind Kejriwal held a press conference today to mark one month of his Aam Aadmi Party government in Delhi.
Highlights of Mr Kejriwal's media interaction:
Our VIPs should live like aam aadmi.
We gave up on luxuries that we were entitled to.
Fast power metres in Delhi will be checked.
We are bringing in honest, "saadgi bhari" government.
Corruption is very important for us.
'If anyone bribes you, please do inform us': this scheme is working.
I have visited offices and people are saying now their work I getting done without bribing.
Corruption, bribing has reduced across many departments.
We will have have to follow this up to see a bigger impact.
Sikh community has been demanding an investigation into the 1984 riots. We have spoken to the Lt Governor and he will take action.
An investigation committee needs to probe the 1984 riots.
Water tankers were a big mafia. Their schedule has been put on the website.
Nursery helpline is getting a positive feedback. Schools would demand donations. But this helpline is trying to help that situation.
All government schools have been mapped to check what infrastructure is needed.
Every school has been given Rs 1 lakh for administrative purposes.
58 night shelters made. We know we have to do much more.
5500 NCR permits for auto-rickshaws. Will help people commute from satellite towns like Ghaziabad and Noida.
Contractual employees will be made permanent. But we need to follow procedures.
If the striking employees don't come back to work, we will not consider them for regularisation. We can't afford to have 600 DTC buses off the roads.

I have met some teachers on dharna.
150 seats in Delhi University governing bodies were reserved for the Delhi government. Congress leaders have occupied all of them.
The recent dharna was for women security. Wrong or right, everyone has their own view on it.
We have made a committee that will work on women security comprehensively.
Retired home guards, army personnel to form part of this committee. It is not a parallel police force. They will be at your beck and call.
Fast track trial needs to be set up.