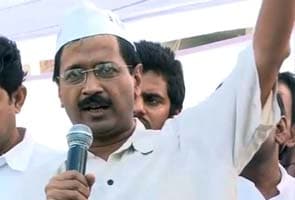 New Delhi:
Arvind Kejriwal and other members of India Against Corruption (IAC) staged protests against hikes in power tariff and burned electricity bills across the capital on Sunday.
Continuing with his
'bijli-paani satyagraha',
which he launched on Saturday, Mr Kejriwal launched a scathing attack on Delhi chief minister Sheila Dikshit and Anil Ambani, whose companies - BSES Rajdhani Power and BSES Yamuna Power - are responsible for supplying electricity to parts of the capital. He said, "We want Delhi not to pay their electricity bills. We will see if Anil Ambani and Sheila Dikshit have the guts to come and cut the electricity of the entire city."
The Delhi Electricity Regulatory Commission (DERC) had earlier approved a steep tariff hike for power distributed by utility firms like Tata Power and Reliance Infrastructure in the national capital. In its fourth hike in last one year, the tariff for domestic consumption was hiked by 24 per cent, while commercial power tariff was raised by 19.5 per cent. The power distribution companies were also allowed to pass on the cost of rising fuel to the consumers.
Mr Kejriwal began Sunday's protest by visiting the house of 65-year-old Kailash Chand, who died of a heart attack following the raid at his house in Najafgarh. Bimla, the wife of the victim, alleged that four persons entered their house, had an argument and manhandled her husband. She claimed that those who came to the house said the family was stealing power and that was why the bill was only Rs 550. He claimed the household had electricity bill of very low amount due to which officials suspected him of committing power theft.
"Even though he had paid his bill, the officials entered his place through back door and cut off his power supply," Mr Kejriwal alleged. On Saturday, Mr Kejriwal launched his campaign by restoring the power connection of a labourer in Tigri Colony, who claimed that he got a bill for Rs 15,000 last month and connection disconnected as he could not pay it.
Today he slammed the chief minister saying "We elected Sheila Dikshit as the chief minister to help the poor, not to support these power companies. These people do not have electricity at their homes as they don't have the money to pay such high amount of bills."
Mr Kejriwal dared the Delhi government by saying "We will continue with this protest till the government calls for a rollback on tariff hike." On Monday his supporters will protest outside the DERC office in south Delhi.
He also criticised the Delhi government for lack of supply of drinking water in the city. He said, "Being the chairman of Jal Board why doesn't Sheila dixit send tankers where there is no drinking water."
Meanwhile, the Delhi Government is mulling to take legal action against Mr Kejriwal for "illegally" restoring electricity connection during his protest and accused him of trying to spread "anarchy" and "lawlessness" in the city. Alleging Kejriwal of "breaching" the law and asking people not to pay electricity bills, Delhi Power Minister Harun Yusuf said legal action must be taken against him.
"Kejriwal is trying to spread anarchy and lawlessness in the city. He does not believe in law and order. We will not allow him to succeed. Legal action must be taken against Kejriwal for his illegal act and instigating people to do so," Mr Yusuf said.
The Minister also appealed to people in the city not to follow Kejriwal and respect rule of law.
(With inputs from Agencies)
Get Breaking news, live coverage, and Latest News from India and around the world on NDTV.com. Catch all the Live TV action on NDTV 24x7 and NDTV India. Like us on Facebook or follow us on Twitter and Instagram for latest news and live news updates.