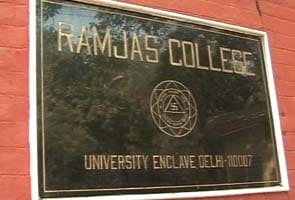 Delhi:
Yet another admission scandal has broken out in Delhi University with police finding four cases of fake marksheets being used to get seats in Ramjas College. The cops believe there are 29 more.
The college authorities have cancelled those admissions, and provided details of the students to the police. No arrests have been in the case so far.
The police also suspect an inside job in the racket.
Earlier this year, the Delhi police busted a racket giving fake caste certificates to students during the admission season.
"There were five similar cases last year. This gang experimented last year and after getting success, came back on a bigger scale this year," said Rajendra Prasad, Principal, Ramjas College.
"We feel that there was some loopholes in the internal procedure of the college otherwise such a racket could not have taken place. Other colleges had already checked up the original marks on the net, hence did not face such problems," said IB Rani, Deputy Commissioner of Police, North District, Delhi.
After the fake caste certificate scam, this is the second admission-related racket that the police is probing in Delhi university. Some feel that the fact that cut offs have touched 100 per cent this year has led to a rise in such crimes in the campus.